This post is one in a series of feature stories on trends shaping advanced energy markets in the U.S. and around the world, drawn from Advanced Energy Now 2016 Market Report, which was prepared for AEE by Navigant Research.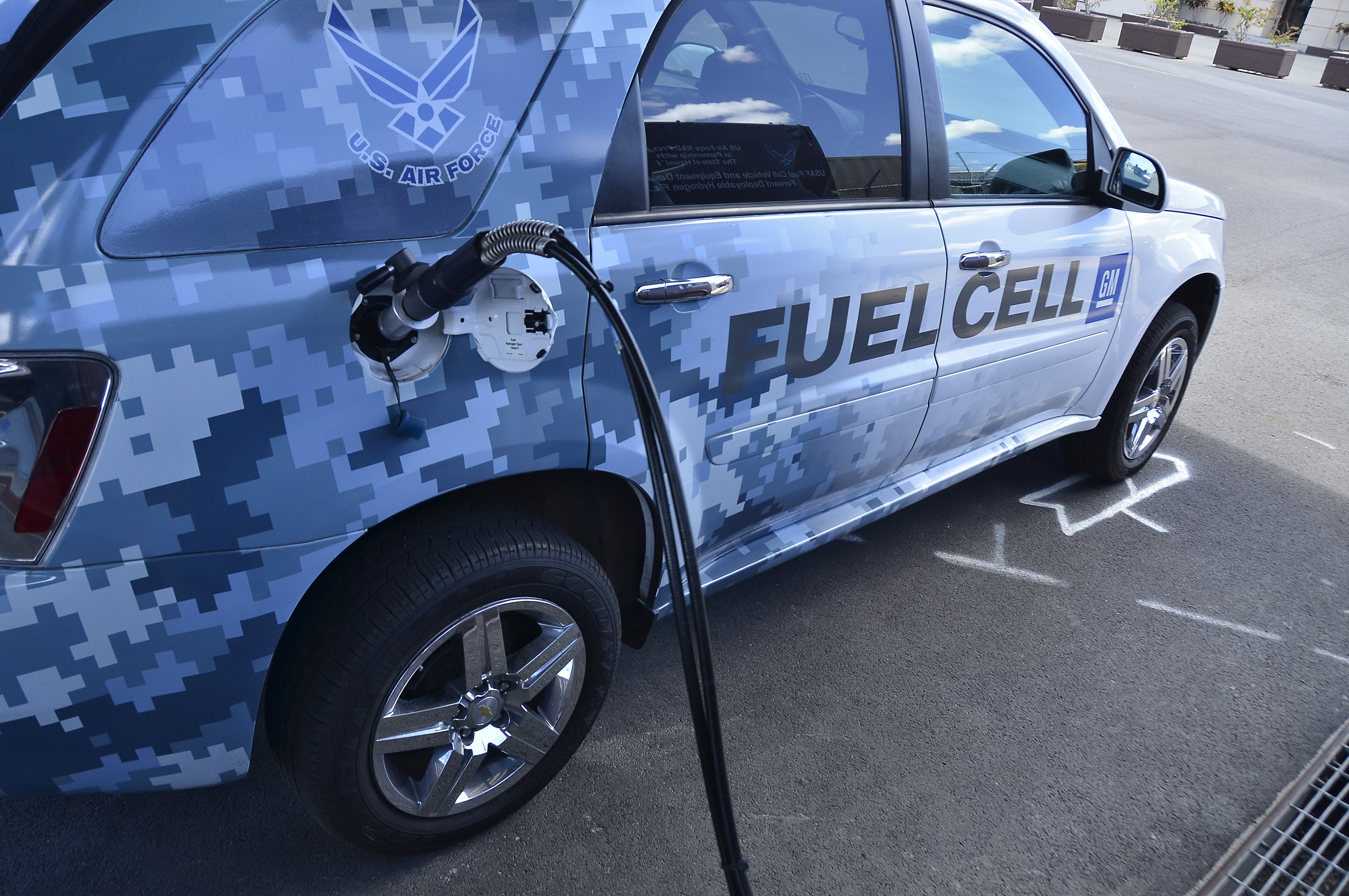 The global market for light-duty natural gas vehicles (NGVs) and battery electric vehicles (BEVs) has grown significantly over the past five years. This growth is a result of finding a viable path in navigating the chicken-and-egg problem of vehicles and infrastructure. FCVs are grappling with an even more difficult form of that challenge. While BEVs and NGVs built off of existing electrical grids and natural gas distribution systems, hydrogen fuel infrastructure is essentially starting from scratch.
Overall, the driver for FCVs among some major automakers is the search for a drivetrain that can enable a shift away from petroleum dependence, while meeting consumer and regulator demands. If BEVs reach an upper limit in range that is below that of a typical gas car, fuel cells could be an attractive, even necessary, option for longer drives, faster refueling, and/or larger vehicles. OEMs are making continued improvements in FCV performance, specs, and price, but will need fueling infrastructure for FCVs to gain consumer acceptance. The chicken cannot come before the egg; the two must arrive together.
In Hydrogen Fueling Station development, 2015 marked the high point of a bumpy five-year ride. After declining from $49 million for three years, and reaching a bottom at $16 million in 2014, worldwide Hydrogen Fueling Station Infrastructure leaped to $113 million in 2015. The U.S. market for Hydrogen Fueling Station Infrastructure has followed a similar pattern, sliding from $24 million in 2011 to $4 million in 2014, and then multiplying eight-fold, to $32 million, in 2015.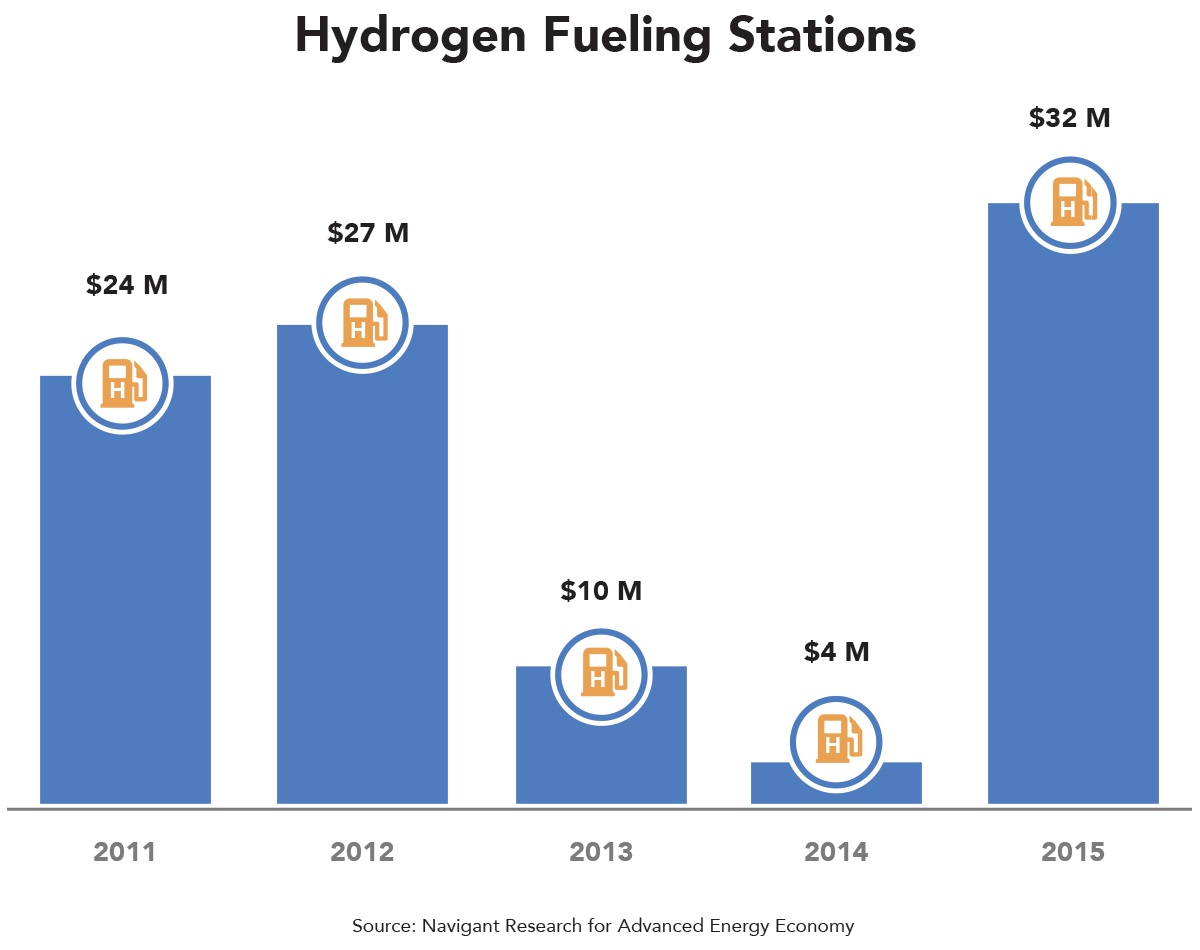 Hydrogen Fueling Stations typically take 18 to 36 months to construct and cost approximately $1 million apiece, so significant scale-up of hydrogen stations will take time. Germany, the United Kingdom, Japan, and South Korea are all making commitments to deploy hydrogen infrastructure. The most commercially viable locations for hydrogen infrastructure are in dense city centers, where vehicle owners from surrounding areas can access them without significant inconvenience. These countries are all significantly smaller than the United States, making it much easier to construct a network of fueling stations that effectively covers the entire country.
In the United States, California is the first state to make a commitment to accommodate FCVs. AB 8 was signed into law in 2013 and requires the state to report on the availability of hydrogen fueling stations in the state in order to identify areas where more investment is needed. The state is co-funding many of the 45 retail hydrogen fueling stations currently under development in California. Outside of establishing the infrastructure, some automakers that are making a push for FCVs—Hyundai and Toyota, for example—are trying to ease adoption in the state by including hydrogen fuel cost in the vehicles' lease. However, California is also an example of some of the challenges that the early FCV market will face. There are complaints about the availability of hydrogen in Southern California, as new fueling facilities for consumers are slowly added to the existing base of early research hydrogen stations.
Germany's H2Mobility program is designed to build new fueling stations in the country to meet demand as FCVs are introduced. Currently, there are 18 public fueling stations in the country. Daimler and industrial gas manufacturer, Linde Group, have had 20 fueling stations in the pipeline, costing approximately €20 million ($21.5 million); at least five of the 20 opened in late 2015. Additionally, the Hydrogen for Innovative Vehicles project (dubbed "HyFIVE") has the goal of expanding Europe's hydrogen fueling network between major cities and is currently seeing stations being built in Austria, Italy, Denmark, and the United Kingdom.
In Japan, the automakers are partnering in a major effort to build out infrastructure for their hydrogen vehicles. Honda, Toyota, and Nissan are part of an agreement between 10 Japanese gas companies to jointly develop a 100-station hydrogen highway in Japan. In South Korea, there are now 11 stations throughout the country. The Hyundai-Kia Motor Co. has been working with the government to increase the availability of these stations.
From Europe to the Far East, the effort to bring hydrogen to the road continues.
Learn more about biofuels and the entire advanced energy industry in Advanced Energy Now 2016 Market Report, available for free at the link below.