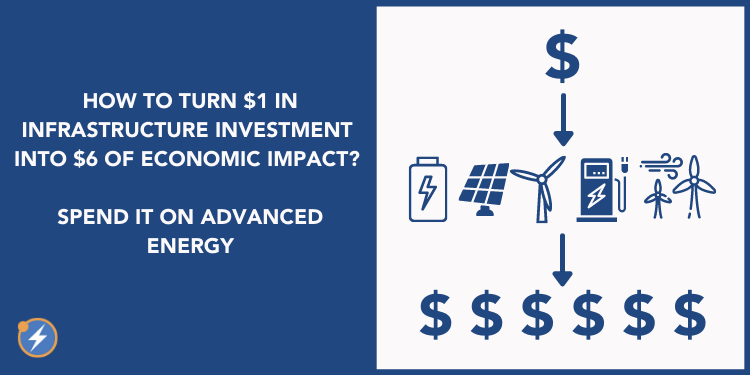 Last month, President Biden and a bipartisan group of senators announced an agreement around the framework of an infrastructure deal. This comes after several rounds of bipartisan negotiations between the White House and the Senate – first with Senator Shelley Moore Capito (R-WV), the ranking member of the committee taking the lead on surface transportation reauthorization in the Senate, and then with a bipartisan coalition led by Senators Kyrsten Sinema (D-AZ) and Rob Portman (R-OH). While there is much to debate in what is – and isn't – included in the package, what is clear, from a new AEE study, is that the way to get the biggest bang for the federal infrastructure buck is investing in advanced energy.
The $1.2 trillion bipartisan infrastructure deal has much to commend it. It includes $7.5 billion for electrifying school and transit buses and another $7.5 billion for building a nationwide network of electric vehicle (EV) chargers. It also includes $73 billion for power infrastructure and $47 billion for resilience, important investments in the wake of the stresses the grid is seeing just this year, such as in Texas during winter storm Uri or right now amidst a heat wave and severe drought conditions in the west. The dollar amounts for these priorities are not particularly impressive, but a bipartisan consensus that EVs and the grid should be part of a federal infrastructure package, and not just traditional roads and bridges, is noteworthy.
Just as noteworthy are the many items that could have been included in the infrastructure package, but weren't. There is no money for retrofitting buildings to make them more energy efficient – one of the best ways to save money, manage electricity demand, and stretch the benefits of grid investment even further. There is no agreement to invest in manufacturing or workforce development, two significant categories of spending proposed in the American Jobs Plan. And there is no agreement to prioritize advanced energy as part of the proposed funding for the grid, which is important for delivering affordable and reliable energy while also meeting the administration's target of decarbonizing the power sector by 2035.
As discussions move forward, our message to the White House and to members of Congress on both sides of the aisle is that federal investments in advanced energy technologies and infrastructure are a winning prospect. An independent report commissioned by AEE shows that federal investment in a range of advanced energy technologies and programs produces a sixfold return on investment.
The analysis started with the categories of investment proposed in the American Jobs Plan, such as manufacturing, buildings, R&D, and the grid. The report authors then made reasonable assumptions about how much of each of those buckets would be spent on the advanced energy sector – just under $600 billion of the $2-trillion-plus American Jobs Plan. That amount was divided across a range of subsectors, including renewable energy, energy efficiency, transportation and building electrification, energy storage, grid modernization, transmission, and job training.
The conclusion? That not-quite-$600 billion investment results in $3.5 trillion added to GDP, over 28 million new jobs, $631 billion in additional federal, state, and local tax revenue, and over $74 billion in annual consumer savings. And the investment scales – more dollars invested in advanced energy means more jobs, consumer savings, and economic growth.
A separate report from Analysis Group commissioned by AEE looks specifically at the results of $274 billion of public stimulus investment in transportation electrification (TE). Investments in TE, which are spread across a few categories in the analysis – including vehicle purchase incentives, manufacturing and domestic supply chain incentives, charging infrastructure build-out, workforce training, and research & development – would result in a $1.3 trillion contribution to the U.S. GDP, create 10.7 million jobs (in job-years), and generate $231 billion in additional tax revenue for federal, state, and local government. Beyond tax revenues and job creation, an investment of this scale would help accelerate the transition to EVs, saving consumers, governments, and businesses $19 billion annually in the process. While the proposed infrastructure package rightly includes investments in electric school and transit buses and building a nationwide network of EV chargers, it misses opportunities around EV purchase incentives and supply chain investments.
We appreciate the hard work that the President and the senators put into the bipartisan agreement. Our country's infrastructure has massive needs, and the agreement, if it can be turned into legislation, passed through Congress, and signed into law, would make real investments that would address some of those needs. Democratic leaders have also said that they intend to move a separate infrastructure bill through the budget reconciliation process, allowing Democrats to address additional priorities that they cannot get Republican support for, such as climate policy and health care. Regardless of the legislative vehicle, we hope to see Congress make significant investments in advanced energy infrastructure this year. Otherwise, our country will miss out on trillions of dollars of economic benefits and the chance to ensure that America remains globally competitive during the energy transition.