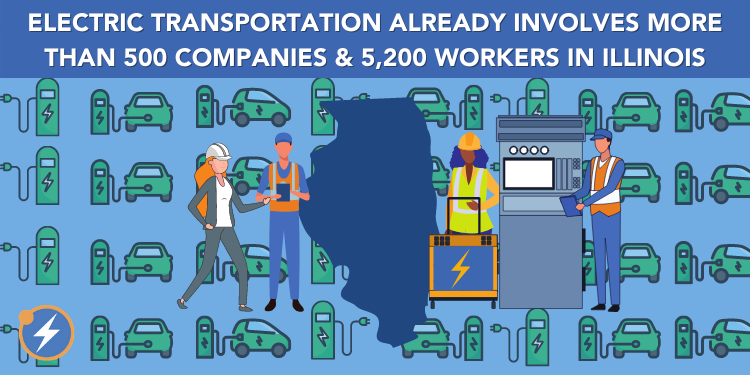 A few weeks ago, the Biden administration unveiled a $2 trillion plan to overhaul U.S. infrastructure. The American Jobs Plan included $174 billion for vehicle electrification to expedite the transportation industry's shift away from fossil fuels. This funding targets the production of not only vehicles, but battery technologies, component parts, and raw materials used across the entire electric vehicle supply chain. That's because electric vehicles (EVs) are different – and therein lies an opportunity for businesses, workers, and entire states to join the U.S. auto industry as transportation goes electric. One of those states is Illinois, where see the beginning of an electric transportation (ET) industry already in place, and poised to grow.
Instant acceleration, a quiet ride, no gas pump or exhaust fumes – all these things make an electric transportation future exciting. But electrifying our country's transportation sector will not be without its growing pains, and as the automotive supply chain changes in significant ways in the transition from internal combustion to electric power, so too will many of the jobs associated with it.
Some auto-related jobs – in sales, distribution, etc. – will simply convert along with the vehicles themselves. Some may be lost, as production of EVs is different than gas- and diesel-powered models. But the differences between internal combustion engines and electric drive trains, and between charging stations and gasoline pumps, will also open up new opportunities for firms and workers that are not currently part of the automotive industry at all. We are seeing a number of states across the country that already have some presence in the electric transportation (ET) supply chain, providing a foundation for future growth.
One of those states is Illinois. A new study, prepared by BW Research Partnership for AEE, found that Illinois is well-positioned to benefit from the growth of ET, giving the state's economy a potential boost. In 2019, the ET sector already established in the state contributed nearly $850 million to Illinois' Gross State Product (GSP), more than twice the economic contribution of the state's well-established Industrial Building Construction sector.
The analysis found that more than 520 companies currently employ 5,200+ workers in ET-related businesses across 97 of Illinois' 102 counties. ET jobs are also expected to increase 83% by 2024, to roughly 9,500 workers, including those at the Rivian factory in central Illinois, which is gearing up for two different models of electric "adventure" vehicles and delivery of Amazon's historic order for 100,000 electric delivery vans.
Illinois' industrial workforce is also particularly strong because of the state's existing research and development base and precision manufacturing capacity, both of which are poised to grow with electric transportation. Another 70,000 workers are found in Adjacent and Support Industries that have skillsets that would allow them and the companies they work for to transition to ET-related work with relatively little training or upskilling required. Those industries shed nearly 16,000 jobs between 2014 and 2019, and ET-related work could offer a lifeline to displaced workers.
Illinois could clearly benefit from transportation electrification, but as an emerging technology, electric vehicles continue to face some barriers. Those barriers include higher upfront costs, paucity of charging infrastructure, accessibility issues, and a general lack of consumer awareness. But the benefits of EVs make overcoming these barriers worthwhile, as EVs provide broad-based cost savings for all electric ratepayers, regardless of whether they own an EV. They also provide operational cost savings for the drivers and increased security as they speed the transition from fossil fuels to clean electricity generation, much of which will come from in-state resources.
With supportive policies, policymakers can address barriers to EV adoption head-on and make sure that Illinois gets to fully realize the benefits that these vehicles provide. As the legislative session heats up this spring, opportunities abound to fully embrace the ET market. Specifically, we propose that Illinois set an EV adoption goal of 1.2 million vehicles by 2030; establish a tax credit for ET companies that relocate to Illinois or are located downstate or in disproportionately impacted areas; and initiate a regulatory process that requires utilities to submit Transportation Electrification Plans to the Illinois Commerce Commission (ICC) every three years, with an emphasis on building out "make-ready" charging infrastructure.
Additional areas of support include expanding the availability of the Electric Vehicle Infrastructure Training Program (EVITP) curricula to universities and colleges, with broad geographic reach. Policymakers should also leverage existing pots of funding through the VW Mitigation Settlement agreement and 2020 Capital Plan to build out a robust network of public charging stations across Illinois.
Illinois is just one state, and the opportunity to gain from a growing supply chain for electric transportation will not be the same for every state. But Illinois has a significant opportunity to drive economic development and job creation within this sector. And, as the Biden administration places emphasis on clean transportation technologies in its plan to rebuild U.S. infrastructure, that would be a good place for the Land of Lincoln to start.