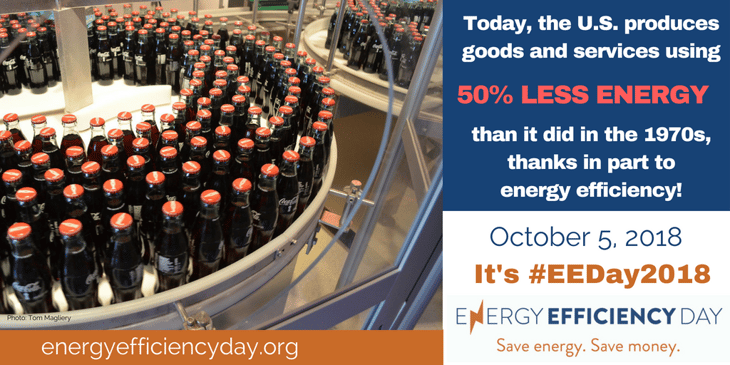 Image provided by EnergyEfficiencyDay.org
This year's Energy Efficiency Day (#EEDay2018) was designed to spotlight the impact of efficiency technologies and inspire companies, as well as the average person, to take action. That's why AEE is supporting the national social media campaign on Oct. 5 and encouraging our members and partners to join us.
Energy efficiency is the largest component of the broader advanced energy industry AEE represents — and it's big business too, representing $70 billion of the total $200 billion in revenue from U.S. advanced energy in 2016. That also translates to 2.2 million people working in energy efficiency across the nation, the biggest portion of more than 3 million total U.S. advanced energy jobs.
Given these numbers and the big savings from energy efficiency, consumers, company officials and workers alike should care about doing more to save more. Energy Efficiency day (#EEDay2018) is the perfect campaign to build awareness among your customers about what your company is doing, as well as what they can do.
With the large scope of energy efficient options, the topic can become rather vague for those not in the industry, and oftentimes misunderstood. With a goal of lowering energy consumption, energy efficiency involves the operational improvement of both new and existing buildings including homes, offices, industrial operations and schools. There are several technologies that can be deployed (we highlight these technologies and more, in This is Advanced Energy.):
Efficient Lighting and Intelligent Lighting Controls: Lighting accounts for 20% of energy use in commercial buildings and 10% of energy use in residential buildings. Installing efficient lighting is one of the lowest cost, fastest payoff efficiency improvements today. Advanced lighting technology includes light-emitting diodes (LEDs), energy-saving incandescent bulbs, and compact fluorescent lamps (CFLs).
Demand Response (DR) is a grid management tool through which utilities and grid operators provide information and, in some cases, incentives to customers to encourage them to reduce energy use at specific times.
Combined Heat and Power (CHP) produces electricity and useful heat from the same fuel source in an integrated system. CHP systems recover exhaust or waste heat from electricity generation for use in industrial processes, space heating, and water heating.
Efficient Heating, Ventilations and Air Conditioning: Heating, ventilation and air conditioning (HVAC) systems consist of air conditioners, heat pumps, boilers, furnaces, and chillers, as well as the associated controls, air handlers, ductwork, and piping. Improvements in efficiency derive from various technological innovations, such as variable speed drives (which reduce energy use by electric motors) and increased heat exchanger surface area (which improves overall energy transfer to the conditioned space).
So, how can you and your company contribute to making our nation more energy efficient? Join almost 200 Individuals, local governments, organizations and corporations across the nation, including AEE, in making the pledge to take action on October 5:
Join the Campaign: Add your name to the list here. This is free, fast, and you just have to check the box to list your organization's name publicly as a participant.
Highlight Your Company's Successful EE Initiatives: Talk about the technology, products, and programs you're involved with; spotlight successful projects and your customers or partners.
Share EE Activity on Social Media. Highlight #EEDay2018 on your social channels, especially Twitter and Facebook, ahead of, and on day-of, Oct. 5 (and follow those channels too!).
Share EE Tips and Best Practices for energy consumers of all types. Don't forget, we all play an important role in achieving energy efficiency. Check out 10 ways you can encourage your customers, as well as your own operations, to save energy and save money. Read these helpful tips here.>
Lastly, Be creative! In past years we've seen spontaneous EE haikus, limericks, and movie memes to engage interest.
Are you ready to make your EE pledge? Join us for #EEDay2018 now.