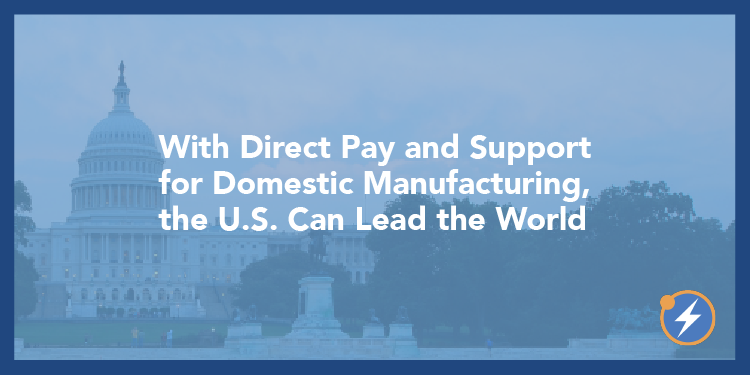 The U.S. House of Representatives has spent the last three weeks marking up a series of legislative proposals that form the basis of the Build Back Better Act, the budget reconciliation bill put forward by the Democrats. Taken together, these proposals put into legislative text the elements of President Biden's American Jobs Plan and American Families Plan that were not included in the bipartisan Infrastructure Investment and Jobs Act passed earlier this year. While, as in all legislation, there are elements that disappoint, AEE is impressed by the overall scope and scale of investments in advanced energy proposed. If enacted, the Build Back Better Act would put the U.S. on course to leading the world in advanced energy manufacturing, transportation electrification, and carbon emissions reductions, all while creating millions of jobs and investing in economic opportunity for American workers and families.
Here is our take on what the Build Back Better Act does – and, in some cases, doesn't do – for advanced energy:
Advanced Energy Manufacturing. As we said in a statement last week, AEE applauds the inclusion of several provisions that will strengthen U.S. domestic manufacturing capacity for electric vehicles (EVs) and other advanced energy technologies. This includes the revival of the section 48C advanced manufacturing tax credit, as well as reserving a portion of the credit specifically for investments in communities that have historically had strength in automotive manufacturing. We are also pleased to see investment in both grants and loan authority to support domestic EV manufacturing and funding to monitor and identify critical supply chain vulnerabilities. Finally, AEE has championed additive, non-discriminatory incentives for projects and technologies that meet domestic content requirements, and we are encouraged to see this approach reflected in the proposed direct pay tax credits for clean electricity investment and production (see Clean Electricity, below), as well as for EVs. This approach holds promise for encouraging a pivot toward the use of domestically produced materials in solar, wind, and other advanced energy projects, and in the development of domestic supply chains to support those projects, without stalling near-term deployment.
Clean Transportation. The proposals contain significant funding for clean transportation, including new refundable credits for individual buyers of both new and used light-duty EVs without a per manufacturer cap and a new credit for commercial EVs of all weights. Both tax incentives and grant funding are also included for EV charging infrastructure, including reforms to the section 30C credit to attract private capital to build out 21st century transportation infrastructure. And funds are invested in replacing existing public vehicles, such as fire trucks and school buses, with electric versions, as well as in electrifying federal fleets, including Postal Service vehicles. However, AEE is disappointed to see both income (Adjusted Gross Income) and sticker price (MSRP) caps imposed on the individual credit for new EVs. These restrictions on eligibility are counterproductive to the intended aim of the policy, which is to grow EV deployment across the auto market, and are bureaucratic and confusing for consumers. They will only serve to slow down EV adoption and growth of the thousands of jobs and companies associated with the electrified transportation industry in the U.S.
Distributed Energy Resources. While transmission and clean electricity generation are critically important to achieving an affordable, reliable, and 100% clean electricity system, so too are the distribution grid and distributed energy resources (DERs). That's why AEE was pleased to see a 10-year extension of existing tax credits that support DERs, such as the section 25C credit for residential energy efficiency improvements and the section 25D credit for residential solar. The proposals also contain over $20 billion for residential energy efficiency and electrification grants and rebates. We also appreciate the investments in making public buildings more resilient and energy efficient, along with the increase to the section 179D deduction for commercial energy efficiency. Finally, AEE applauds the $2.5 billion investment in low-income community solar, as well as the dedication of 40% of the $27.5 billion for state and local climate finance institutions dedicated to low-income and disadvantaged communities.
Clean Electricity, Transmission, and Wholesale Market Expansion. The proposals from the Energy & Commerce and Ways & Means committees create ambitious targets for clean electricity by providing incentives to increase investment and market demand. AEE is pleased to see 10-year extensions of both the section 48 ITC and section 45 PTC, including a "direct pay" option that allows a project developer to claim these credits as refundable. Direct pay is critically important to ensuring that tax credits can benefit all developers, especially helping those without access to tax equity make use of the credits while avoiding Wall Street fees. We are also pleased that, after many years of advocacy, the bill would add energy storage to the existing ITC. It's also good to see funding made available to support energy and industrial transition communities.
The legislative text also includes important investments in transmission infrastructure, including a new investment tax credit made available to certain large transmission projects needed to move low-cost clean energy from remote locations to load centers, and over $9 billion in direct investments in transmission. AEE was also pleased to see additional funding for states to help site transmission projects, and to improve organized wholesale electricity markets or study their formation in places where they do not exist today.
Meanwhile, to increase market demand for clean energy, the proposed Clean Electricity Performance Program (CEPP) would set out incentives for electricity providers (utilities and retail suppliers) to increase their year-over-year clean electricity supply by 4%, while also enacting penalties if they fall short. This is in place of what would have been preferable measures to drive demand like a Clean Electricity Standard, made necessary to meet the narrow requirements of the budget reconciliation process. Also missing is an accompanying incentive for energy efficiency, as an EERS that might have accompanied a CES. Nonetheless, AEE strongly supports measures that accelerate market growth for these resources. We look forward to working with Congress, the administration, and state regulators to ensure that the new program is implemented as efficiently and effectively as possible, including guidelines for competitive procurement processes and incentives for investment in DERs and energy efficiency.
The Build Back Better proposal represents an opportunity for Congress to accelerate the country's transition to an advanced energy economy powered by clean energy and electrified transportation. The provisions described above would drive down the cost of that transition for consumers while creating new investments that have the potential to add millions of new jobs to our economy over the next 10 years. The time to act is now. Advanced Energy Economy calls on Congress to do so without delay.
To contact your congressional representatives and tell them to support advanced energy in the Build Back Better Act, click the button below.