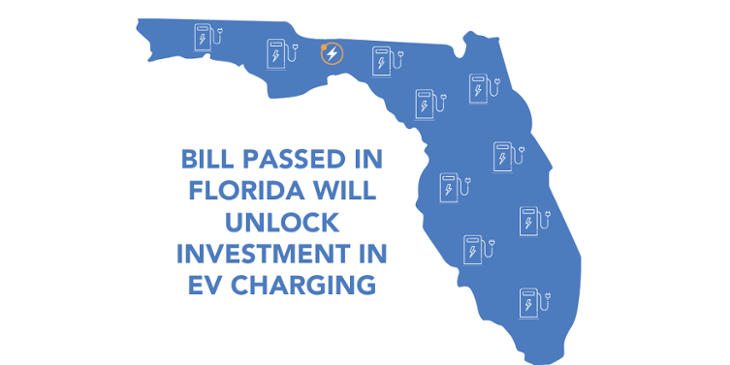 Florida historically has been a difficult state for the advanced energy industry, despite the great potential for these resources there. Over the past five years, the biggest win for the advanced energy industry was passage of property tax exemption for solar energy in 2017. Other policy ideas to boost solar, storage, energy efficiency, and electric vehicles have been proposed infrequently and passed even more rarely. But as the legislature adjourned March 19, it showed that Florida is ready to move forward on advanced energy – starting with electric vehicles (EVs). Approved by the legislature and now ready for the Governor's signature is a bill to put Florida in a position to encourage statewide investment in EV charging infrastructure.
Even before this year's legislative session, EVs were getting attention in Florida. In May 2019, the state Office of Energy announced it would start an EV Roadmap dialogue to kickstart transportation electrification. Two months later, Gov. DeSantis announced a goal of significantly expanding electric vehicle (EV) charging stations along the Florida Turnpike with use of Florida's $166 million share of Volkswagen Settlement funds. Currently, Phase I of the Volkswagen mitigation funds – competitive grant funding for DC Fast Chargers – has been initiated, with the deadline for applications moved back to May 7 due to the COVID-19 situation.
On top of the interest in EVs from the Executive branch, the legislature followed suit. Back in October of last year, AEE and its members were invited by the House Energy and Utilities Subcommittee to present on the role of advanced energy, including electric vehicles, in Florida's future economic development. (See our blog post for more details on our lobby day at the Florida State Capitol, which included this presentation.)
As session began, several EV-related bills, both negative (imposing onerous EV registration fees) and positive (EV infrastructure grant programs) were filed by top Republicans in the majority-Republican legislature. But the bill that quickly gained traction was SB 7018, sponsored by Sen. Tom Lee and Rep. Blaise Ingoglia. AEE worked closely on this bill throughout session, and hosted a successful lobby day in February, with some of our members involved in electric vehicles and EV charging meeting directly with Sen. Lee's office, as well as other key legislators. Finally, last month the bill was approved unanimously by the Senate before passing the House by a wide, 97-19, margin.
The bill directs the Florida Department of Transportation (FDOT) to coordinate with the Public Service Commission (PSC) and the Office of Energy to develop a Master Plan for the development of EV charging stations along the State Highway System. FDOT is given primary responsibility for identifying potential locations along the State Highways, which serve as evacuation routes, and quantifying loss of revenue to the State Transportation Trust Fund from reduced gas tax payments. The PSC is tasked with projecting the growth in EVs in the state over the next 20 years and evaluating the types of regulatory structures that may be necessary to accommodate this growth.
Though the bill was passed by both houses of the Florida legislature, it is not yet on Gov. DeSantis's desk. Legislative leaders are holding onto all engrossed bills, so as not to force on the Governor statutory deadlines to take action on them while he is rightly concentrating on the COVID-19 public health crisis. But we are optimistic that Gov. DeSantis will sign the bill into law once it gets to him.
Other energy bills indicated a political shift in Florida, as several bills that were passed mentioned climate change as justification. For example, SB 7018 noted the significant impacts that climate change may have for the state and the role EVs can play in reducing carbon emissions as rationale for promoting EV use in the state. Likewise, Climate Change Resolution SR 1572 (Sen. Linda Stewart) contains language to prepare Florida for the impacts of climate change, specifically calling for "policies relating to clean and renewable energy, including the provision of adequate electric vehicle charging stations."
In Florida, as elsewhere, policymakers are now focused on responding to COVID-19. Once the crisis has passed, we look forward to the signing of SB 7018, and the work that will follow. Under the bill, FDOT is required to file a status report that includes recommendations for legislation by December 1, 2020. AEE's priority now is to ensure that the interim report encourages legislative action in the 2021 session to open up the market for EV infrastructure. AEE will continue to work hard to expand advanced energy market opportunities in Florida and collaborate with policymakers and regulators to ensure that the future of EVs and the entire advanced energy industry, which already employs more than 170,000 workers in the Sunshine State, remains bright.