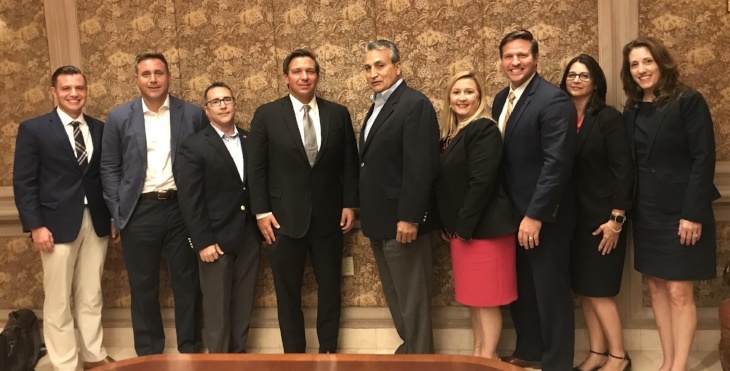 On August 6, Advanced Energy Economy (AEE) held its first gubernatorial candidate roundtable in Florida. Business leaders met with Republican candidate for governor U.S. Rep. Ron DeSantis. DeSantis has served Florida's 6th Congressional District since 2013. He is endorsed by President Donald Trump.
The businesses participating in the roundtable represented a range of advanced energy technologies being implemented across the state including solar, energy efficiency, and smart grid technologies. The conversation was focused on strengthening the advanced energy industry in Florida, which now employs more than 160,000 people across the state. The group shared its vision to drive the state's energy sector forward and provided insight on how the governor can work with stakeholders to make Florida's grid more secure and resilient to natural disasters. DeSantis welcomed these ideas and affirmed his commitment to creating more jobs and growing Florida's economy.
With strong leadership and a focus on mobilizing all stakeholders, Florida's next governor can harness the economic power of the advanced energy industry to realize that goal. Florida's advanced energy industry now employs more workers than Real Estate Sales, Leasing, and Management, and double those employed by Department Stores in the state. Employers expected to grow advanced energy jobs by 9% in 2018.
As the energy landscape continues to transform, Florida must stay ahead of the curve to competitively position itself as a desirable location for the advanced energy businesses. Currently, advanced energy in Florida is still largely defined by its potential – particularly in solar, biomass, and combined heat and power (CHP). Strengthening policies in support of advanced energy can help provide market certainly and attract billions in private business investment. As the cost of advanced energy technologies and services continues to decline, strategic investment in advanced technologies and services can reduce consumer costs and meet new demand, all while enhancing the reliability of the electric grid.
AEE believes a governor well-versed in the benefits of advanced energy to Florida's economic success will work to institute policies that open markets and grow this sector of the economy. We look forward to continuing our engagement with the candidates following the Florida primary election on August 28.