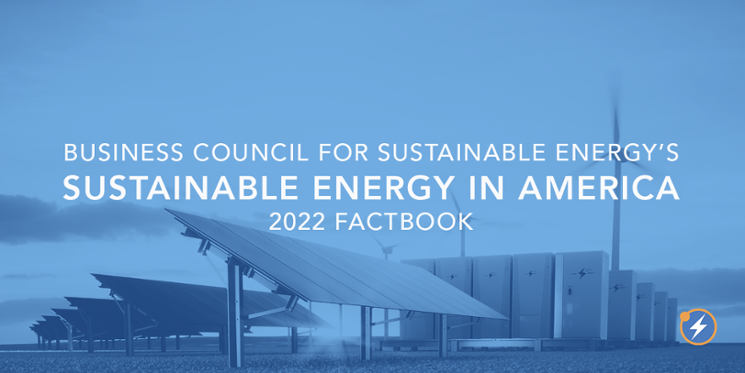 All eyes were focused on energy negotiations in Washington for the better part of 2021, but with less fanfare, advanced energy companies powered a record-breaking year for investment in the energy transition. BloombergNEF and the Business Council for Sustainable Energy's 10th annual Sustainable Energy in America 2022 Factbook released last week quantifies the industry's progress with year-over-year data and insights on energy efficiency and renewables. The Factbook records new highs in the deployment of renewable power, battery storage, and electric transportation, despite lingering COVID setbacks and supply chain bottlenecks economy wide.
Moreover, the Factbook highlights that soaring public and private investments in the energy transition last year signal the advanced energy industry is here to stay, and if lawmakers can provide public policy support to accelerate the speed and scale of clean energy deployments, even greater economic gains lie ahead. Here are some of the key takeaways from 2021:
U.S. primary energy consumption grew 4.4% in

2021 as the economy recovered from COVID-19 business conditions but was 3.19% below 2019 (pre-pandemic) levels.

Energy productivity improved by 1.3%

. The ratio of GDP growth to energy consumption grew again in 2021, suggesting that the long-term trend of the U.S. using energy more efficiently continued through two anomalous years.

A record-breaking $105 billion in new capital went into new U.S. clean energy assets

, an 11% year-on-year jump; the figure has grown 70% in the last five years.

Developers built a record 37 GW of wind and solar power

generating capacity. Solar enjoyed its biggest year ever with 24.2 GW added while wind had its third-biggest year, at 13 GW.

Corporate demand for clean energy endured

, with a total of 351 companies pledged to procure 100% clean energy. Companies signed contracts for 17 GW of clean energy in 2021.

Renewables made another record contribution to the power grid,

with production rising 4.1% year-on-year. Renewable sources accounted for just over one fifth of U.S. power generation in 2021.

Nearly 4.2 GW of battery storage capacity was added to the U.S. grid

in 2021. Today, 81% of storage is provided by pumped hydropower projects, but batteries account for 89% of new storage capacity over the past decade.

2021 was a breakthrough year for U.S. offshore wind, with 8.5 GW of new capacity

awarded, stemming from contracts in New York, New Jersey, Massachusetts, and Maryland.

U.S. electric vehicle (EV) sales hit 657,000 units in 2021

, a doubling from the 325,000 cars sold in 2020.

The Biden administration adopted a 2050 economy-wide net zero emissions goal

for the U.S. as Congress approved $80 billion for

energy transition investment. Congress ended 2021 with over $300 billion in climate and clean energy policies pending in a tightly divided

House and Senate.
With a decade's worth of sustainable energy facts from BloombergNEF and the BCSE now on the books, the trend is clear: America is well on its way to an advanced energy economy.
As for the decade to come? Our CEO Nat Kreamer emphasized last week, "We have the technology, talent, and capital to run our nation safely and prosperously on advanced energy. For the sake of our security and our economy, we need Congress to pass President Biden's clean energy agenda without delay." We at AEE will be working in states across America to ensure that trajectory becomes a reality.
Sign up for AEE Weekly to get regular updates on our work accelerating the advanced energy transition.