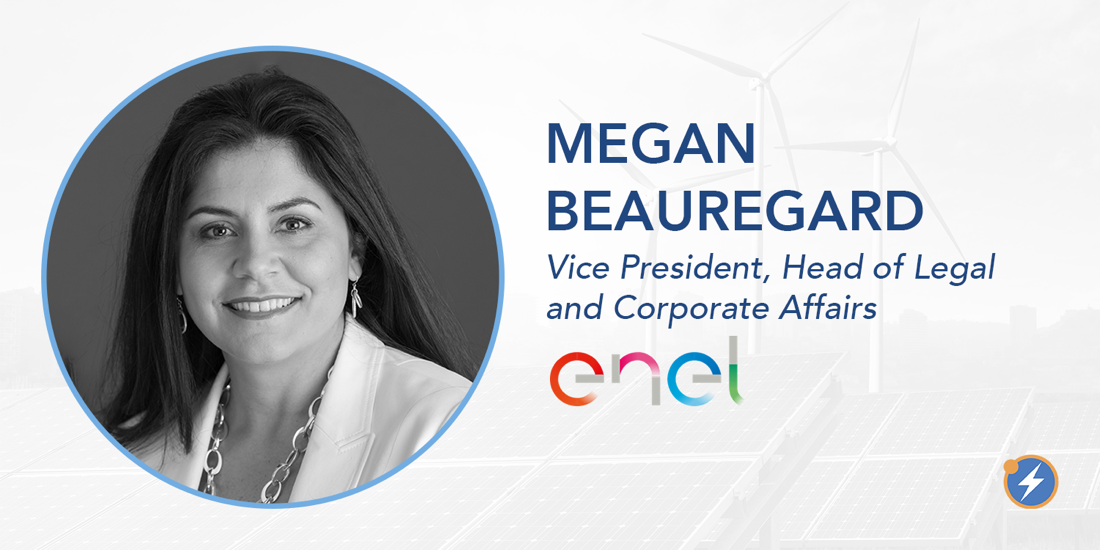 Megan Beauregard, a Vice President at Enel North America, has been named to AEE's Board of Directors. At Enel, Beauregard is Head of Legal and Corporate Affairs, Secretary, and General Counsel, leading the legal department and advising the company on a wide range of business issues. A longtime Leader-level member, Enel North America is committed to tackling climate change by making 100% clean energy possible in the United States and Canada.
"AEE is thrilled to welcome Megan Beauregard to the board," said AEE CEO Nat Kreamer. "For two decades, Enel has been working to provide clean energy solutions across North America, and Megan's broad legal and energy experience will be an asset as AEE advocates for policies that grow markets for those solutions. We look forward to the leadership she can provide as AEE continues to work toward a 100% clean energy future."
"Renewable energy, demand response, and electric vehicles all have a part to play in building out a more resilient energy future," said Beauregard. "AEE is committed to expanding the market for these clean energy technologies through targeted state and federal policies, and I look forward to working with them as we continue to power the energy transition."
Prior to joining Enel, Beauregard was an attorney with the law firm Wiggin & Nourie, P.A. and holds a J.D. from Suffolk University Law School, as well as a B.A. in European History and International Relations from Boston University. With deep New England roots, Beauregard is also involved with several local charities and organizations, particularly those that uplift women in STEM and energy industries.
Is your company ready to get engaged in making advanced energy progress?