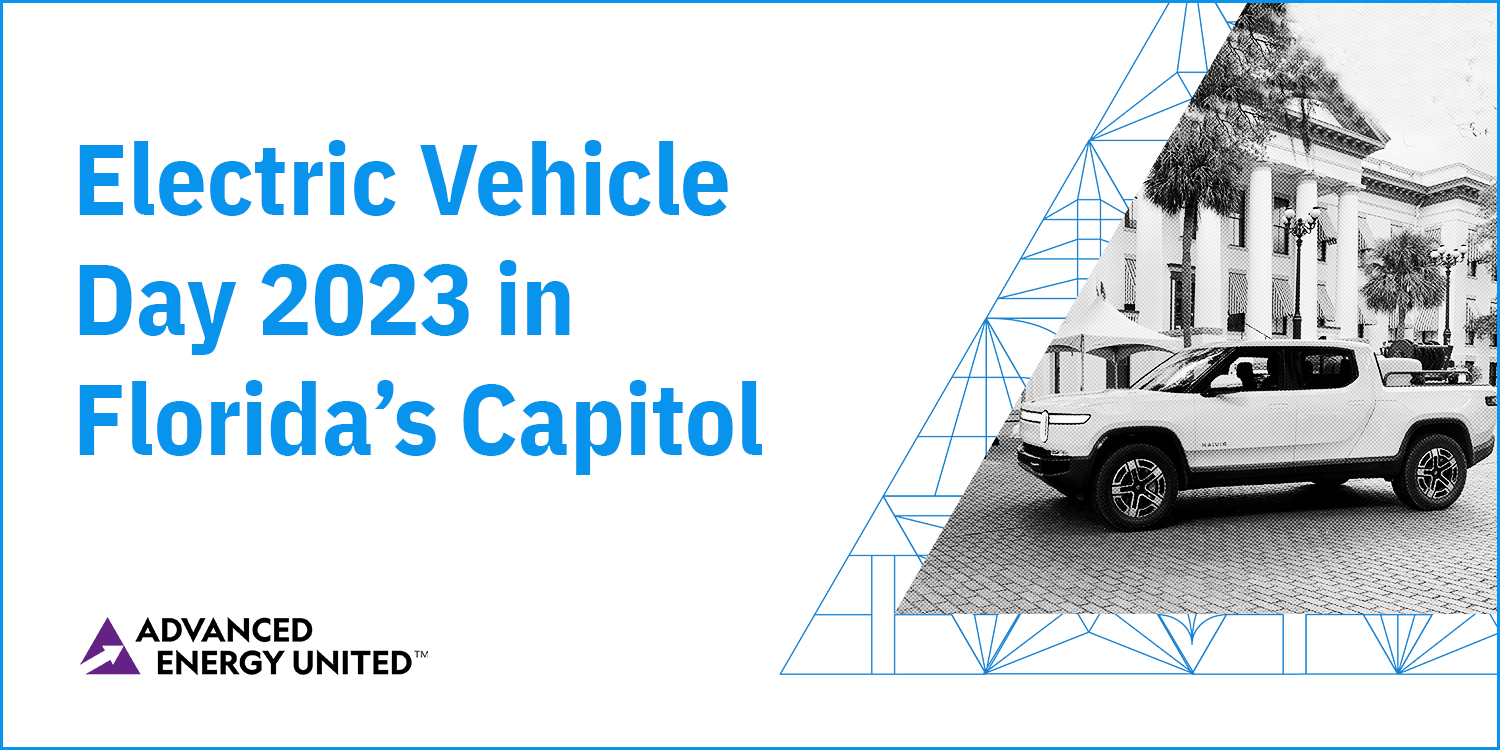 Florida currently has the nation's second-highest number of electric vehicles and the second-largest network of charging infrastructure in the Southeast. But those numbers – and the potential economic and consumer benefits that additional EV adoption offer Floridians – aren't always reflected by how legislators in Tallahassee treat the issue of an electric transition. That's why Advanced Energy United, the Electrification Coalition, the Southern Alliance for Clean Energy, Drive Electric Florida, the Alliance for Transportation Electrification, and several others sponsored an Electric Vehicle Day at the Florida Capitol last week.
Our coalition, joined by partners including our members, charging companies, local governments, and utilities, looked to shed some light on what EVs can do for the Sunshine State by presenting resources, displays, the vehicles, and their drivers – for Florida policymakers to see the benefits firsthand.
With a display of some twenty electric vehicles on the grounds of Florida's Capitol, our coalition made vehicles ranging from trucks to buses to tractors available for legislators, government officials, staff, and members of the public to explore and learn more about up-close. And to really drive home the value EVs can offer, each vehicle or display had an owner or operator available to answer questions, from the most basic questions about electric vehicles to specific ones about that vehicle or display.
At a time when electric vehicles, charging infrastructure, the energy transition, and related issues and policies are the center of intense debate throughout the state government, our coalition was able to exhibit the expansion in the usefulness of electric vehicles and move beyond the stereotypical view that electric vehicles are only for lightweight passenger transportation.
Decision makers and the public had an opportunity to connect with everyday EV users and the companies creating jobs here in Florida to support the transition in a way that encourages an ongoing dialogue around electric transportation. Our team at Advanced Energy United joined coalition partners for a public reception and lobbying meetings with key decision-makers in the Florida Legislature to advocate for electric vehicle expansion throughout the state and further the discussion of the economic benefits that an ever-enlarging marketplace for electric vehicles creates.
A 2022 report from Advanced Energy United showed the advanced energy industry accounts for 162,300 jobs throughout Florida. Specifically, 11,500 of those jobs are directly related to advanced vehicles, including working with hybrid and electric transportation. When a sector experiences a 28% growth in employment since 2021, it's an area our team and our coalition partners are actively engaged in for the coming year and beyond.