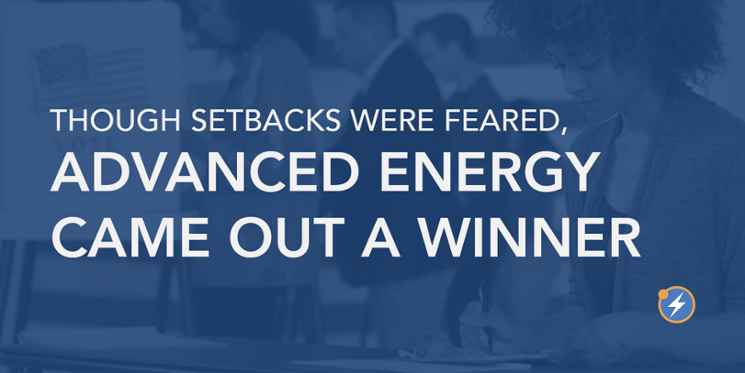 The 2022 election is still not in the books, but with the outcome of most contests already known, advanced energy and its champions at the state and federal level were clear winners. Heading into any midterm election we expect to see a swing away from the sitting president's party. This year that meant the potential to see the progress of the past four years slowed in key states across the country and at the federal level. But now, with the votes mostly tallied, we can say the stage is set for more clean energy progress next year, especially with the funds and incentives from federal legislation arriving in states ready to put it to work.
While most of the attention of any national election is focused on the federal level, the outcomes in state legislatures and gubernatorial races are more linked to the policies that determine market growth for advanced energy technologies. Coming out of the 2018 elections, AEE saw advanced energy champions elected in many of the states where we were engaged. As a result, 13 states made commitments to 100% clean energy. In 2022, all but one of these states elected or reelected advanced energy champions.
Looking forward, there are several developments from this election that should be on the radar screens of energy wonks and watchers over the next two years.
Spotlight on the Four Ms
Maryland, Massachusetts, Michigan, and Minnesota all now have Democratic trifectas in state government. One party in control of the legislature – both houses – and the governor's office has normally meant an opportunity for significant policy gains.
For Maryland and Massachusetts, new governors will control appointments to key agencies and regulatory bodies, which will be critical to implementing historic climate legislation passed in 2022. In Michigan and Minnesota, the election presents a new opportunity to codify Executive Orders issued by Governors Whitmer and Walz over the past four years, which would rapidly decarbonize those states' power sectors.
Will Arizona Invest in Clean Energy?
Energy policy in Arizona has been a political football for over a decade. The state's largest utility has set a goal of achieving 100% clean energy, the Arizona Corporation Commission (ACC) has adopted then repealed a binding commitment to 100% clean, and the governor and legislature have been openly hostile to the energy transition.
This year's election could signal a shift in those dynamics with the election of Secretary of State Katie Hobbs to the governorship. Governor-Elect Hobbs has committed to reinstating the Arizona Energy Office, which will have the opportunity to administer hundreds of millions of dollars in federal spending from the Infrastructure Investment and Jobs Act, as well as the Inflation Reduction Act. Elevating the energy transition as a priority in the administration could create tens of thousands of jobs in the state. But it by no means guarantees Arizona's position as a leader on energy issues. That's because the outcome of the ACC races – with one advanced energy champion incumbent unseated and an open seat won by an advanced energy skeptic, leaving the Commission 4-1 Republican – makes for a more hostile environment next year.
Reelected Governors Emboldened
Victories for Democratic governors in California, Colorado, Connecticut, Illinois, Maine, New Mexico, and Rhode Island affirm that the policy gains on decarbonization over the past four years are politically popular. In some of these states, using investments from the Inflation Reduction Act could provide emboldened governors justification for accelerating their timelines for 100% carbon free energy. In other states, notably Colorado and Illinois, governors should feel empowered to reduce pollutants from the transportation sector through adoption of the Advanced Clean Trucks II rule, which applies new standards to medium- and heavy-duty vehicles to reduce tailpipe emissions. In all these states, advocates and industry have reason to expect – and push for – continuing the progress of the past four years.
I would be remiss not to mention the one loss for Democratic governors in 2022: Nevada Governor Steve Sisolak, who was a vocal supporter of building an advanced energy economy, will be replaced by Governor-Elect Joe Lombardo. Energy did not play a central role in what was a very close race, but there are reasons to remain confident in Nevada keeping its place as a clean energy leader. Advanced energy has historically enjoyed bipartisan support in the state, with Republican Governor Brian Sandoval signing significant clean energy measures following bipartisan passage in the legislature. Additionally, Nevada has been one of the fastest growing states for clean energy jobs. The economic growth associated with advanced energy has resonated on both sides of the aisle in the past, and should continue to do so.
Shifts – and Not – at the Federal Level
As noted earlier, most midterm elections result in a massive swing away from the sitting president's party in control of Congress. This year proved to be different, as the expected Republican wave never materialized. Yes, Republicans picked up control of the House of Representatives by a narrow margin but Democrats held onto the U.S. Senate, with the potential to even pick up one more seat if Georgia Senator Warnock wins his runoff election on December 6.
So, what does divided government mean for energy policy in Washington, D.C.? The likely answer is some good, some bad, and some ugly.
The Good
Closely divided government often requires a bit more reaching across the aisle and more opportunity for bipartisanship. There are critical issues that still need federal attention if we are to realize the full potential of the marquee legislation passed in the current Congress. Notably, both Democrats and Republicans have indicated an interest and willingness to address permitting reform and ensuring adequate critical minerals for the energy transition. It would be pollyannish to assert that there is no daylight between the two parties on these issues, but the fact that leaders on both sides of the aisle are discussing these issues is a small opening for working together.
The Bad
The House Republican conference has already sent indications that they want to undo the landmark Inflation Reduction Act, whether by outright repeal or by hamstringing programs with investigations and oversight hearings. The GOP has long favored development of fossil fuels and its associated infrastructure over most forms of advanced energy and this position has only hardened over time. While Senate Democrats can provide a firewall against the worst attacks on the Inflation Reduction Act, the posture of House Republicans will only serve to raise suspicions among Democratic senators – and advocates – that any permitting or critical mineral packages coming out of the House would be tilted toward fossil fuels and against clean energy.
The Ugly
There was a time when there was a breather between elections that opened the door for bipartisan cooperation. That is not the case in 2022 with former President Trump already announcing his intention to run for the presidency in 2024. We do not have to look too far back into history to know that his presence will have an impact on the debate in Congress. He has already lambasted the Inflation Reduction Act and other clean energy measures on the campaign trail. This rhetoric is likely to get worse. The question will be what sway he has on Republicans in Congress. If he emerges as the frontrunner for the nomination, the position of the Republican leadership will likely align with his, making Congress exceedingly difficult terrain.
What we do know heading into next year is that the investments made possible by the Infrastructure Investment and Jobs Act and the Inflation Reduction Act are historic, representing a transformative opportunity for our energy system. That work falls to state governments and the private sector. For advocates, companies, and the public this is good news. And AEE is well positioned to help states that want to move toward 100% clean energy make the most of those investments.
Register for AEE's webinar, "IRA Opportunities & Obstacles: State Perspectives," Tuesday, December 6, at 2 PM ET / 11 AM PT, by clicking below.