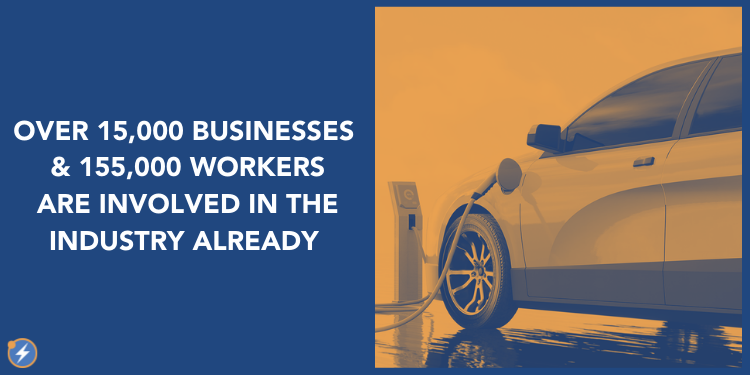 In the 1920s the United States dominated the automobile market, led by Henry Ford and the Ford Motor Co. Before that, cars were difficult to make and expensive to buy. But thanks to Ford's Model T and (then) newfangled assembly line production, the demand for cars became overwhelming, driving production into high gear, putting Americans to work with higher wages, and lowering the cost of these vehicles. This phenomenon occurs with most new technologies, from the desktop computer to the toaster. So, it is no surprise that we see the same phenomenon happening with electric vehicles (EVs) nearly 100 years later. Question is: Is the U.S. prepared to dominate the EV market the way it did in Henry Ford's time?
As consumer demand for EVs continues to grow, technological advances in battery production are driving vehicle purchase prices down. Major automakers and government officials at both the state and federal level are making significant pledges for an electric future. Just this month, President Biden signed an executive order calling for 50% of all new vehicles sold in 2030 to be zero-emissions vehicles, including battery-electric, plug-in hybrid electric, and fuel cell electric vehicles. Automakers including General Motors, Jaguar and Land Rover, Mazda, Mercedes Benz, and Subaru—to name a few— have made public announcements regarding their plans to go electric across their entire product lines.
So, what do these big announcements mean, besides more EVs on the roads and cleaner air? They should mean jobs for American workers and growth for the U.S. economy. That's because the seeds of an EV-based auto industry are already planted.
According to "Building an Electric Transportation Supply Chain in the United States," a study prepared by BW Research Partnership for AEE, U.S. jobs in electric transportation (ET) are projected to nearly double over the next five years, reaching 296,000 workers by 2024. Already, 15,200 businesses are employing 155,000 people, with jobs in all 50 states. These businesses are involved in manufacturing, wholesale distribution, retail sale, installation, research and development, maintenance, and repair of EVs, plus the associated charging infrastructure and necessary component parts, such as batteries and drive system components.
The range of occupations and skill sets needed for ET work include ones not traditionally associated with automobile manufacturing, such as software and hardware engineering. This presents an opportunity for workers with different skill sets to join this modern manufacturing workforce. The report examined so-called "adjacent industries" and found that there are over 2 million workers that have skill sets that would allow them and the companies they work for to transition to ET-related work with little additional training or upskilling.
Even at this early stage – with EVs accounting for 3% of new car sales, 10% in nation-leading California – electric transportation is a force in the U.S. economy, estimated to have contributed $29 billion in Gross Domestic Product (GDP) in 2019. This is roughly equivalent to the GDP contributions of Architectural Services, Surgical and Medical Instrument Manufacturing, and Auto Parts Stores.
Despite the big announcements, EVs, and the technologies that support them, continue to face barriers to wide scale expansion and adoption. Supporting policies must be put into place for the U.S. to capitalize on the economic potential electrified transportation represents. Not only will supportive policies help remove supply chain bottlenecks, but they will also help the EV market to scale more quickly.
There are important steps to be taken at the state level regarding EV policy, but there are some actions that the federal government can take to encourage the growth of the EV market. These include:
extending and expanding existing tax credits for light-duty EVs and EV charging infrastructure;
offering financial incentives to schools for the purchase of electric school buses and the associated charging equipment;
electrifying government-owned fleets, and expand programs aimed at boosting the domestic manufacturing of EVs and critical supply chain components, such as batteries. Additional actions include expanding the availability of workforce development programs;
providing more EV-focused training programs, and retraining opportunities for workers already in the automobile manufacturing industry; and
bolstering research and development (R&D) and "moonshot" initiatives, including initiatives focused on lithium and rare earth metal mining and extraction, advanced battery technologies and materials, and advanced semiconductor design and production.
For the U.S. to rule the EV market the way it did the auto market of the 1920s, it will have some catching up to do. Europe and China have taken the early lead, with aggressive policies and government support. But when it comes to business, innovation, and workforce, America has always had what it takes to lap the competition. With the foundation revealed by "Building an Electric Transportation Supply Chain in the United States," all that's missing is for the starter's pistol to go off.
Download "Building an Electric Transportation Supply Chain in the United States" or one of AEE's eight state-specific ET supply chain reports by clicking below.