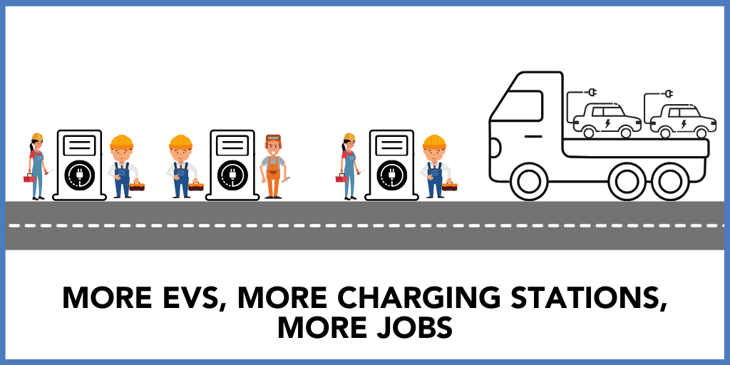 Automakers are particularly vulnerable to economic downturns; just think back to the 2008-2009 financial crisis. So it should come as no surprise that EV sales, along with all others, are expected to drop in the coming year due to the global COVID-19 pandemic. But in the long term, nothing has changed. Manufacturers are gearing up their EV offerings, EVs continue to grow their worldwide market share, and gas-powered vehicles have hit their peak. What's next, especially in the United States, is for the charging station build-out to match the coming demand – and realize the job gains and global competitive advantage that could come from a federal charging-station investment.
In the latest annual update to its Long-term Electric Vehicle Outlook report, BloombergNEF predicts that global EV sales will slump 18% this year, by 1.7 million units, marking the first time in recent years that EV sales have dropped worldwide. But analysts expect the drop in conventional car sales to be higher, with a 23% reduction in global sales this year. Though there may be a short-term pick-up in traditional car sales following COVID-19, BloombergNEF says that gas-powered vehicle sales peaked in 2017, while EVs are expected to keep capturing global market share, making up 10% of new passenger car sales worldwide by 2025, 28% by 2030, and 58% by 2040.
While some EV model launches will be delayed in the short-term, manufacturers are sticking to, and some even accelerating, their long-term electrification commitments. General Motors, one of the Big Three U.S. automakers, recently announced that they have fast-tracked their EV program amid the pandemic. Volvo still plans to launch an all-electric car every year for the next five years, and by 2025 wants EVs to represent 50% of its global sales.
In short, it is clear that while the coronavirus is creating headwinds, it will not be the end of EVs. In fact, during the downturn, we are seeing the global race for leadership in electrification, and corresponding supremacy in automotive technology for decades to come, heating up. The BloombergNEF team predicts that acceleration of the EV market will occur most strongly in China and Europe over the next decade, where policymakers are leaning into the race, while the United States will lag due to federal policy uncertainty as major manufacturers reach their cap on the federal EV tax credit and attempts to weaken federal vehicle emission standards are debated in the courts.
In this period of economic downturn, there is an opportunity for the United States to counter these uncertainties and strengthen its global position while stimulating economic development by addressing a chronic shortage of charging infrastructure. The same BloombergNEF outlook predicts that 290 million charging points will be needed globally by 2040. In the U.S., there is a well-established gap in charging infrastructure. A recent paper that qualifies the gap across the 100 most populous metro areas in the U.S. found that 88% of them needed to at least double their charging infrastructure over the next five years.
Regulators in states from New York to Texas have recognized this gap, and Commissions and utilities, in concert with the wider charging infrastructure industry, have taken actions including opening statewide foundational EV investigations, altering rate designs to encourage infrastructure deployment, and creating infrastructure incentive programs. Likewise, some legislators across the U.S. have introduced and/or passed bills that create infrastructure rebates, alter building codes to be EV-charging friendly, and set statewide infrastructure deployment goals. And yet, given the size of the gap, there is so much more to do – and good reason to do it.
At a basic level, ensuring an adequate number of charging stations will help assuage consumers' "range anxiety," which remains one of the top barriers to EV adoption. A recent survey of American consumers from AAA found that six-in-10 Americans who are unlikely (or unsure) to buy an EV are concerned that there are not enough places to charge.
As Congress looks to promote a strong economic recovery, there is also a clear opportunity to invest significantly in accelerating charging infrastructure installation. It would be a trifecta: addressing our charging infrastructure gap, improving U.S. competitive positioning in the automotive industry with respect to China and Europe, and stimulating economic development. It will also help to create new jobs at a time where they are gravely needed. A recent review of the limited public and private data sources available today suggests that a $1 billion investment (of public or private funds) in non-residential charging infrastructure could support between 6,000 and 15,000 jobs for a year. Depending on the mix of Level 2 and Level 3 (direct current fast chargers – DCFC), that $1 billion could support the installation of 23,000 to 100,000 stations. As the EV market grows, we will need many times this number of stations, making the economic potential substantial.
The United States must harness the global trend of EVs in a meaningful way, or we risk falling behind in the global technology race, particularly to China. Morgan Stanley recently estimated that the automotive industry, directly and indirectly, supports 10 to 14 million U.S. jobs. It is simply not a sector that we can cede to other countries. By investing in charging infrastructure now, the United States can use this uncertain time to create certainty – for an industry in transition, for consumers who will ultimately drive that transition, and for workers who can make it happen.