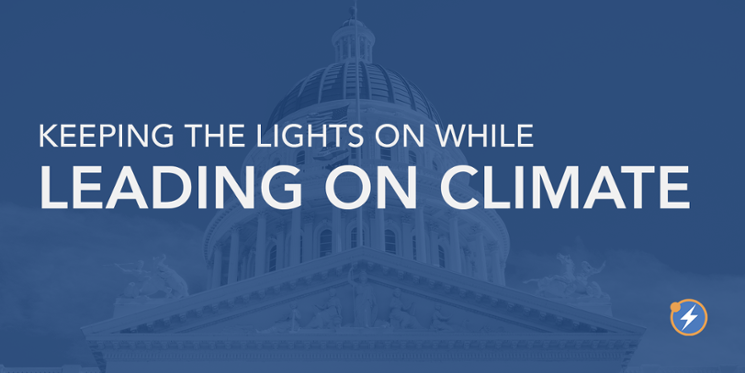 Less than a week after the legislature concluded its 2022 session, California was back in the news for record-breaking heat waves and emergency energy conservation efforts that staved off power outages. This combination of extreme weather and grid strain underscored the central theme driving energy legislation at the State Capitol this year: reliability. Throughout budget and bill deliberations, policymakers grappled with the core question of how to keep the lights on under increasingly challenging conditions without compromising California's world-renowned climate leadership or spiking consumer energy bills. What came out of the session that ended August 31 was lawmakers' current answer, but the question is not going away.
With the introduction of the Governor's budget proposal in January, initial legislative discussions revolved around how best to leverage the state's historic $45 billion budget surplus to supercharge California's core emission reduction programs and maximize the impact of coming federal dollars. This theme held to some extent throughout the budget dialogue, but the mostly forward-looking tenor gave way to an all-hands-on-deck urgency as concerns around heightened wildfire risk and summertime grid strain took center stage.
Motivated by significant anticipated shortfalls in energy supply needed to meet high electricity demand, the Governor's May Revised budget proposal signaled a battening down on reliability heading into summer. Garnering the most attention of any of the energy-focused elements of this proposal was the creation of a "Strategic Electricity Reliability Reserve" to shore up additional gigawatts and deploy additional emergency load reduction strategies to avert grid emergencies. While AEE generally supported the proposal's allotment of new resources for demand-side and distributed back-up solutions, AEE and other stakeholders scrutinized the reliability reserve for its simultaneous reliance on the continued operations of natural gas and diesel generation instead of doubling down on the cleanest available utility-scale and distributed energy resources. (See AEE letter responding to the Governor's May Revised budget and coalition letter from clean energy trade associations.) Despite concerns from advocates and from within the legislature, the reliability reserve ultimately secured passage, with some modifications, in the energy-focused budget trailer bill Assembly Bill 205. This left the bulk of clean energy and transportation investments up for negotiations after the customary July Recess.
Climate Package and $54 Billion Spending Plan
The legislature's return from recess in August kicked off an equally customary frenetic final month of session. Governor Newsom started things off by announcing five climate priorities he wanted to see addressed, along with a parallel – and controversial – proposal to extend the operations of the Diablo Canyon nuclear plant beyond its 2025 retirement date (effectively reversing a settlement agreed to years prior). The climate package, consisting of major policies such as codifying the state's goal of carbon neutrality by 2045 and accelerating GHG emission reduction targets, came to overshadow other outstanding energy and climate items through the final hours of the session. AEE launched digital ads pointing to a webpage calling on legislators to support these measures. While not all of the marquee climate bills (including AB 2133, which would require California to reduce GHG emissions 55% below 1990 levels by 2030) were able to overcome fierce opposition from incumbent industry interests, most of the climate package emerged victorious. The approved package included SB 1020, establishing interim goals on the path of 100% clean energy by 2045, and AB 1279, requiring carbon neutrality and 85% GHG emission reductions by 2045, among other bills.
Also no small feat, the legislature approved a comprehensive $54 billion clean energy and climate spending plan. Parsed out across budget trailer bills, the climate plan contains significant investments in building decarbonization (energy efficiency and heat pump deployment), electric transmission infrastructure, long-duration storage, green hydrogen, and offshore wind development, along with streamlined permitting measures and clarifications to the strategic electricity reliability reserve.
As part of the budget action, AEE worked with a coalition of clean energy industry groups, ratepayer advocates, and environmental groups, to seek a technical clarification to the Demand Side Grid Support (DSGS) Program, one of the new programs initiated by the Assembly budget trailer, AB 205. This fix sought to revise language narrowly restricting DSGS program eligibility to a limited pool of ratepayers – customers of municipal utilities and electric service providers. AEE and our coalition partners successfully advocated to broaden incentive eligibility to all ratepayers (excluding those already participating in emergency load reduction or demand response programs at the CPUC), ensuring expanded participation in energy conservation measures and better reliability outcomes. Despite the Administration's resistance to updating DSGS eligibility, the Assembly embraced our proposal in its budget counterproposal, including the technical amendment in the energy budget trailer bill AB 209.
Wins and Losses on Electric School Buses
The final budget deal also solidified $2.6 billion for clean transportation incentives, bringing the state's zero-emission vehicle (ZEV) investment package to a total of $10 billion over the next five years. This year's investments reflected a heavier focus on charging infrastructure and medium- and heavy-duty vehicles. Indeed, school bus electrification emerged as a key theme this legislative session, coinciding with the launch of the EPA's Clean School Bus Program in the spring, under the federal Infrastructure Investment and Jobs Act. Through the state budget, the legislature approved $1.5 billion in new funding for electric school bus grants and charging infrastructure. AEE supported this allocation, while asking for important adjustments to the grant structure to support scalable use of state funding. For example, AEE successfully pushed for the removal of minimum grant language that would have inhibited schools' ability to stretch grant funding across an array of school bus-related expenses best suited to differing schools' needs. Less successfully, AEE also advocated for dedicated funding for technical assistance to simplify grant application and financing processes for school districts serving disadvantaged communities and those especially burdened by poor air quality.
Outside the budget process, AEE sponsored an electric school bus bill, AB 2731, which would have required all new school buses purchased after 2035 to be zero-emission vehicles, accelerating the transition to zero-emission school buses a full 10 years ahead of existing mandates. (See our guest blog post by bill author Assemblymember Phil Ting.) AB 2731 secured endorsements from a broad range of stakeholders, including the California State PTA, CALPIRG, GreenLatinos, Environment California, regional clean energy trade groups, businesses, and others. AEE and the bill's other supporters took on opposition from the school administrators and school board groups, countering misinformation about electric school buses and the bill's fiscal impact. To address compliance concerns from rural and smaller school districts, AEE agreed to bill amendments that would allow schools to apply for a one-time hardship extension of up to five years (pending approval from the Air Resources Board), upon demonstrating difficulty meeting daily school bus route needs with available ZEV technology come 2035.
Despite strong coalition efforts and positive momentum for the bill through constituent letters to legislators and a print ad in the Los Angeles Times, AB 2731 stalled in the Senate Appropriations Committee in August. This bill's defeat was all the more disappointing because it represented a missed leadership opportunity for California as other states – most notably, New York, with passage of its nation-leading legislation on purchasing and fleet turnover goals earlier this year – power forward on electric school bus adoption. AEE will be exploring opportunities to revisit policy gaps around school bus electrification in future legislative and budget conversations.
Another missed opportunity in clean transportation manifested in significant revisions to SB 1010, a bill that initially set actionable targets and interim milestones for transitioning state fleets to 100% ZEV. As amended in the second-to-last week of session, the bill's pared down focus excluded ZEV purchasing deadlines.
Looking Regionally for Reliability
This legislative session took place against the backdrop of an election year marked by pending departures of numerous sitting legislators. The changing makeup of the legislature and policy committees (including a change of leadership of the Senate Utilities, Communications & Energy Committee) leaves a big opening for newly elected lawmakers to take up the still unfinished business, including issues that will impact the electricity and transportation landscape for years to come.
Far from resolved is the topic of securing long-term energy reliability. This legislative session signaled renewed interest from California policymakers in thinking regionally about improved electric grid coordination to address reliability challenges confronting the broader West. AEE supported ACR 188, a resolution by Assemblymember Chris Holden to request the California ISO to report on regional developments about Regional Transmission Organization (RTO) formation in other Western states and what these activities mean for California. ACR 188 sailed through the legislature with unanimous support, indicating that there is an appetite among state decisionmakers to better understand how California can work with the rest of the West to ensure reliable electric power.
Building on the passage of ACR 188 and the progression of regional markets conversations elsewhere (e.g., Colorado and Nevada), AEE will continue to encourage decisionmakers to consider strengthened regional grid coordination for long-term reliability planning. By early 2023, the legislature will have timely information from the CAISO on the latest developments in neighboring states and potential benefits to California from better collaborating on energy supply and demand throughout the region, along with AEE's study on the economic impact of a Western RTO. AEE will likewise be looking to the legislature and state agencies to ensure unmet transmission infrastructure needs and upgrades to the electricity system are being approached both holistically and with appropriate urgency in both planning and funding.
In 2023, AEE will also continue to underscore the importance of balancing a comprehensive regional framework with the need to build community resilience locally. Funding certainty and clear regulatory signals are needed to scale up efforts to protect critical institutions (like schools, hospitals, senior care facilities, grocery stores, and other essential service providers) with clean back-up power (generation and storage) capable of withstanding wildfire-induced PSPS events and extreme heat. While the legislature set aside $900 million for the state's existing Self Generation Incentive Program (SGIP) program in this year's budget deal, policymakers again punted on consideration of multi-year DER funding streams (needed to support a diversity of solutions, including microgrids, managed EV charging, community and distributed solar-plus-storage, together with fairly compensated demand-side solutions) to future budget discussions.
One thing's for sure: maintaining reliability and keeping the transition to 100% clean energy moving and affordable for all Californians will be back on the agenda for the legislature next year.