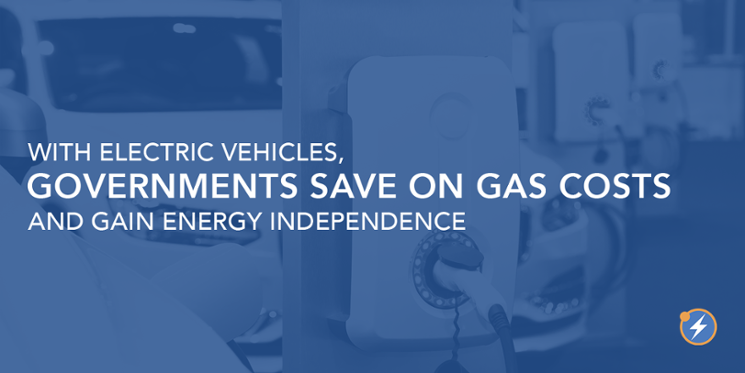 A new trend is emerging as a growing number of governors and state legislatures are taking action to electrify their state-owned motor vehicles. By accelerating their own transition to clean transportation fleets, states are leading by example while saving taxpayer money, lowering maintenance requirements, reducing emissions, and contributing to energy independence.
The benefits of transitioning state fleets to electric are many. Governments can save on gasoline costs while bolstering energy security and independence because the electricity that powers these vehicles will be homegrown. An "e-gallon" – the cost of fueling a vehicle with electricity is considerably lower per mile than fueling with gasoline. EVs have fewer parts, which means less maintenance and increased operational reliability. Electric transportation does not generate tailpipe emissions, improving local air quality and public health.
Investment in EVs can unleash enormous economic potential too. Studies show that the return on investment can range from four to 14 times the level of public expenditure. EV usage is also a great promotional opportunity, as they increase consumer awareness of electric transportation options, and demonstrate that these vehicles are ready for widespread use. A study by Consumer Reports comparing personal EV and gas vehicles of similar size shows that charging at home can save $800-$1,000 a year on fuel costs and $4,600 over the car's lifetime in maintenance and repairs compared to internal combustion engine (ICE) vehicles.
With all these benefits in mind, several governors have taken the leadership step of issuing Executive Orders (EOs) directing their agencies to buy electric for their vehicle fleets.
Connecticut Gov. Ned Lamont's EO 21-3 sets a 2030 target for all newly leased light-duty state vehicles to be zero emissions, giving a shakeup to the state's public fleet of over 3,500 vehicles across 85 state agencies, which log around 40 million miles annually. Maine Gov. Janet Mills's EO 13 directed state agencies to prioritize lowering employee vehicle mileage, adopting electric vehicles (EV), and installing EV charging stations on state property. In Illinois, Gov. J.B. Pritzker's EO 2021-08 directed the state to create a vehicle procurement program for electric and zero emission vehicles (ZEVs), created a state fleet working group, and mandated state agencies to evaluate fleet vehicles using a lifetime vehicle cost – or total cost of ownership (TCO) – analysis. Washington Gov. Jay Inslee's EO 21-04 set minimum fleet electrification targets for state executive and what are called in Washington state "small-cabinet" agencies, in order to reach 100% light-duty battery electric vehicle fleets by 2035 and make medium- and heavy-duty fleets fully electric by 2040. Finally, in Massachusetts, Gov. Charlie Baker's EO 594 required all state agencies to buy ZEVs starting in 2022, double electric charging stations installed at state facilities by 2030, and acquire vehicles such that the total fleet consists of 100% zero emission vehicles by 2050. The state is also prioritizing these efforts at facilities located in environmental justice populations.
State legislatures are also taking action to require state agencies to take account of the benefits of EVs in their procurement processes. Oregon's SB 1044, signed in 2019, established that 25% of new state agency light-duty fleet vehicle purchases and leases must be ZEVs by 2025. Hawaii codified HB 552 (2021), which requires state agencies to achieve a 100% light-duty motor vehicle clean fleet by the end of 2035.
So far this year, Virginia and New Hampshire have both advanced state fleet electrification bills. The Virginia legislature recently sent SB 575 to Gov. Youngkin, requiring the Department of General Services to develop a total cost of ownership calculator when purchasing light- and medium-duty vehicles. Agencies will start using the calculator in January 2023 and will be required to purchase or lease EVs if the total cost of ownership is less than ICE vehicles. New Hampshire's SB 448, currently being considered by its second chamber, would transition the state fleet to zero emissions and require all agencies to develop transition plans beginning in 2023, while also using total cost of ownership to evaluate cost effectiveness.
There are other EV fleet bills currently up for consideration. SB 2448, introduced in Rhode Island this legislative session, proposes that 100% of public light-duty and passenger vehicle acquisitions are ZEVs by 2027, 100% of school buses are electric by 2030, and 30% of medium- and heavy-duty vehicle procurements are ZEVs by 2030. Maryland's SB 528, which recently passed both chambers of the legislature, requires 100% of passenger cars in the state vehicle fleet be zero emission by 2031 and other light-duty fleet vehicles by 2036.
A critical piece of transportation electrification policy for public procurement is that vehicle purchases be evaluated based on total cost of ownership. While EVs have historically had higher purchase prices, evaluating the full life cycle of both electric and internal combustion engine (ICE) vehicles will help governments weigh the operational savings – fuel and maintenance – of EVs against initial cost.
The means of determining TCO can take different shapes. In New Hampshire, the proposed TCO methodology will incorporate projected ownership time and miles driven per year, whereas Virginia's cost of ownership calculator will, at a minimum, account for the vehicle's make, model, age, average miles traveled per year, expected life expectancy, average annual depreciation, upfront and annual costs associated with vehicle ownership or lease. Some states, like Washington (EO 20-01) and North Carolina (EO 286), are going further and considering the social cost of carbon – an estimate of the comprehensive economic costs and impacts of more emissions, including on human health and property – when making decisions that affect state government's emissions.
Importantly, measures to promote electrification of state fleets generally enjoy some measure of bipartisan support, because saving the state money – that is, taxpayer money – from lower fuel and maintenance costs holds appeal on both sides of the aisle. In a 2019 North Carolina motor fleet ZEV plan, for example, the state Department of Administration estimated that replacing 572 state vehicles with EVs would save taxpayers approximately $3.8 million.
State governments are leading by example in the transition to electric vehicles, utilizing vehicle procurement as a powerful tool to accelerate market growth. Coast to coast, states are stepping up. Keep following AEE to keep tabs on EV developments in your state. To track legislation and regulatory dockets in all 50 states, Congress, and FERC, sign up for a free trial of AEE's PowerSuite by clicking below.
Mike Mullaley, a policy intern at AEE, is a Master's student in Urban Environmental Policy and Planning at Tufts University.