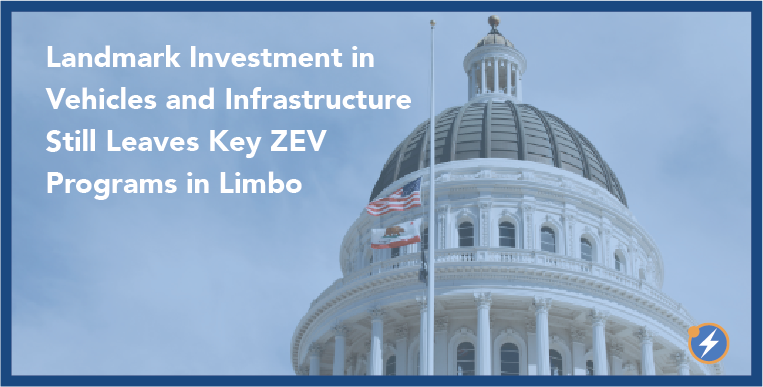 California's legislative session drew to a close on September 10 this year, uncharacteristically early, and with less fanfare than in years past. In many ways, the session started off like a sequel to the one prior, with economic recovery, energy reliability, and wildfire severity all top of mind. But rather than a sprint, with a crowded field rushing to the tape, the 2021 legislative session was more like a marathon, with fits, starts, and a finish line stretching an additional week, when the tally for the September 14 gubernatorial recall election was finished. The implications of this consequential recall campaign – including raised stakes for the state's clean energy ambitions – reverberated throughout the Capitol and, in some cases, had a chilling effect on political appetites. But in the end, the advanced energy industry gained major breakthroughs on electric transportation, with some unfinished business, as wildfire concerns dominated the conversation on reliability and resilience.
Lingering economic inequities and uncertainty exacerbated by the pandemic shaped the bulk of the 2021 legislative session, and as a result, the state budget emerged as the key venue for meaningful action on job-creating advanced energy and climate priorities. This year's budget cycle was also uniquely flush with cash from a windfall in tax revenue and infusion of federal COVID relief funds, giving budget conversations a markedly different tone. These negotiations culminated in the Newsom Administration's stimulus package, or"California Comeback Plan,"dedicating historic spending across numerous social and environmental programs.
As part of this year's $15 billion climate legislation package, Governor Gavin Newsom doubled down on funding support for scaling zero-emission vehicles (ZEV) and infrastructure, making Executive Order N-79-20 (100% of new passenger and light-duty vehicle sales after 2035 must be ZEV) a reality. The historic $3.9 billion investment spreads across zero-emission passenger vehicles, school buses, transit buses, and short-haul freight vehicles with many aims: get more Californians (particularly low- and moderate-income drivers) into electric vehicles through rebate incentive, voucher, and equity transportation programs; grow in-state manufacturing through targeted grants; and ensure charging infrastructure becomes available at the scale needed to support a surge in EV adoption. (Read AEE's statement applauding the passage of this funding package here.)
Despite this landmark funding commitment, the budget did not secure reauthorization of existing AB 8 fees, which help fund the California Energy Commission's Clean Transportation Program (CTP). Nor did it sustain the Carl Moyer program at the California Air Resources Board (CARB), which provides grants to replace the engines of heavy-duty vehicles with cleaner ones. Re-authorizing this funding stream was a pillar of the Governor's initial budget proposal in January, but it failed to win the two-thirds legislative buy-in needed to extend revenue-generating programs. This means that, unless the legislature takes action next session, a suite of tried and true greenhouse gas (GHG)-reducing programs will no longer have funding after 2024.
The legislature also neglected to make some timely updates to the CTP. Companion bills AB 1389 (Reyes) and SB 726 (Gonzalez) sought to better align CTP with the state's clean transportation and equity goals, including a provision requiring that at least 50% of CTP funding go toward projects located in, and benefiting, disadvantaged and low-income communities. These bills stopped short of being taken up for a floor vote in either chamber. AEE supported these bills and will continue to work in partnership with other stakeholders in support of re-authorizing and extending the CTP more broadly, together with meaningful programmatic changes that move California closer to its electrified transportation future.
Clean transportation, clean energy and climate resilience all figured prominently in the legislative budget debate, with conversations largely centered on better preparing California communities and infrastructure for the impacts of climate change. Most immediate of those concerns was keeping the lights on as severe weather events and wildfires strain the power grid. In late July, Governor Newsom issued an emergency proclamation to maintain energy reliability under such conditions, including relaxing air quality and environmental regulations for certain power plants and generators. Following this proclamation, the Administration floated draft language for a potential energy budget trailer bill, with renewed emphasis on accelerated approval and expansion of large-scale energy resources, including advanced energy.
This language was met with mixed reactions, including concerns about the rushed process, lack of stakeholder engagement and a focus on renewable hydrogen and long-duration storage. Ultimately, this language did not form the basis of an energy trailer bill; instead, select components — like a two-year net-energy metering (NEM) extension for fuel cell customer generators — were absorbed into SB 155, a public resources trailer bill. This bill put heavy emphasis on community resilience to climate change (including $200 million for retrofits to, and the construction of, local facilities for managing the impacts of wildfires, Public Safety Power Shut-off events, and extreme heat conditions), made important updates to the Climate Catalyst Revolving Loan Fund, and secured consistent Greenhouse Gas Reduction Fund (GGRF) funding for wildfire mitigation.
Earlier in the year, AEE played defense on a controversial bill, AB 1139 (Gonzalez), which would have severely impacted California's solar energy industry and workforce.This labor-backed bill intentionally ran in parallel with the existing "NEM 3.0" proceeding underway at the California Public Utilities Commission (CPUC). In fact, AB 1139 would have pre-empted the outcome of the active CPUC docket by prescribing changes in the program structure that would have caused massive uncertainty among customers – both existing and prospective – and disincentivized customer-sited renewable energy across the state. This bill was ultimately defeated on the Assembly Floor after a coalition of environmental and environmental justice advocates, clean energy providers, consumers, solar energy workers, and program administrators working with school districts, for which the bill would have undermined the economics of their investments in solar.
Other high-profile legislation that stalled this session included SB 18 (Skinner), which would have directed CARB to develop a strategic plan for the expansion of green hydrogen to reach net-zero carbon. There was also AB 1395 (Muratsuchi and C. Garcia), which would have codified California's target to achieve carbon neutrality by 2045 and compelled the development of a comprehensive strategy, with interim goals, to get there. Meanwhile, AEE-supported SB 99 (Dodd), which would have equipped local governments in high wildfire risk areas with additional c apacity to develop community resilience plans and install clean, localized back-up power sources, sailed through policy committees. But it never emerged from the Assembly Appropriations Committee.
The weeks following the end of session nevertheless saw success for several advanced energy and transportation bills that secured the Governor's signature. These include AEE-supported AB 33 (Ting), extending low-interest loans and grants to public entities and Native American tribes for energy storage and ZEV charging stations, and AB 970 (McCarty), creating a standardized, streamlined review and approval process for local EV charging permits. Other notable mentions include SB 500 (Min), requiring all autonomous vehicles registered in-state after 2030 be zero-emission and AB 525 (Chiu), tasking state agencies with developing by June 2022 a strategic plan for significant offshore wind development.
When the legislative cycle resumes next year, it will do so in the context of an election year. In addition to overhanging or deferred items from 2021, it is all but certain that wildfire risk and energy grid resilience will remain top concerns for decision-makers. This past July and August, the Caldor and Dixie Fires swept across Northern California, keeping the threat of a deadly, extended wildfire season and emergency power shut-offs in the public eye. Policymakers will presumably continue to press the state's regulatory agencies to come up with an effective plan for managing future conditions, including avoiding a repeat of last year's power outages and anticipating extreme heat events gripping the Western region like those earlier this year.
In 2022, AEE will be working to help decision-makers think about the energy grid as a system that can be strengthened through smart, holistic planning. AEE will continue to engage decision-makers on the full set of advanced energy tools and solutions needed to achieve California's 100% clean grid and transportation goals.
AEE has published a series of reports on the economic opportunity for the United States as a whole and for eight key states, including California, in developing the supply chain for electric transportation. Download any or all of these reports, free of charge, by clicking below.