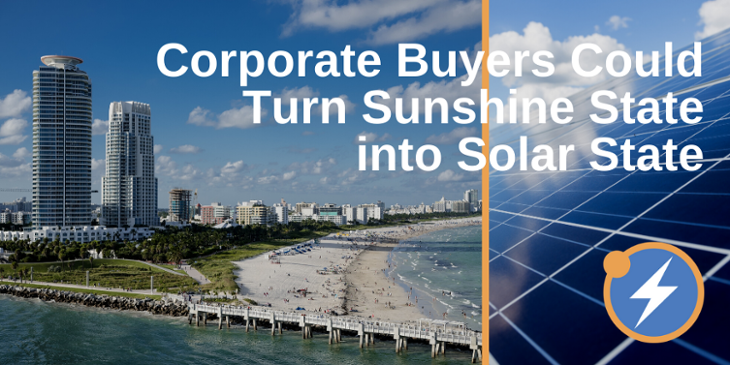 Florida is, in many ways, a state powered by sunshine. From the endless summer that attracts droves of tourists and drives the associated $67 billion tourism industry to the sun-loving crops that allow Florida to lead the Southeast in agriculture, Floridians have the ready availability of sunlight to thank for the state's most prominent industries. Now, there is another way that the Sunshine State could capitalize on its solar resource – to feed its commercial and industrial powerhouses, producing jobs and investment along with energy that's low-cost and clean.
AEE's new report, prepared by consulting firm Wood Mackenzie, explains just how the state can do this. "Opportunities for Meeting Commercial and Industrial Demand for Renewable Energy in Florida," available here, couples advanced modeling with the latest data on macro-trends in corporate renewable energy targets to demonstrate the potential growth in demand for renewable energy from large companies – and the economic benefits Florida could reap from meeting that demand with in-state renewable energy development.
The findings paint an interesting picture: Demand for renewables is likely to grow between 3.14 and 6.75 GW over the next 10 years. That would be at least double the 3.4 GW of solar currently installed in Florida as of the third quarter of this year.
So what can Florida do to satiate the appetite of its corporate denizens? States like Florida with vertically integrated utilities are offering purchasing options to diverse businesses that want renewable energy to power their operations. This is most commonly done through utility programs in the form of a renewable energy tariff (also called a green tariff). Florida was recently ranked 45th in the nation in corporate renewable energy procurement options like these. (You can read more about different types of purchasing arrangements here.)
It is time for Florida to take advantage of the economic opportunity it is presented with, and that's beginning to happen. In March 2019, a new renewable energy tariff was introduced by the state's largest investor-owned utility, Florida Power & Light (FPL). The 1,490 MW purchasing option, dubbed "Solar Together," is currently working its way through the regulatory process, with a hearing set for January 14-16, 2020. If approved, this will be one of the largest solar tariff programs in the country.
However, even upon submittal to the Florida Public Service Commission (PSC), the program was already fully subscribed. That's how much customer interest there is in a well-designed utility offering. Currently, the only other renewable tariff option offered by an investor-owned utility is TECO's 17.5 MW solar tariff, which was approved in May.
Our report shows that this demand for renewable energy from some of the largest businesses, and subsequently some of the largest employers, in the state will only grow, especially as the cost of solar continues to fall.
And here's the cherry on top: The benefits of increased utility-scale solar buildout will not only be enjoyed by commercial and industrial energy users and the utilities involved. According to our report, if the demand for renewable energy was met, it could create 27,000 to 48,000* jobs, both full-time and temporary, and $2.4 billion to $5 billion in capital investment for the state by 2030.
The speed at which Floridians can expect to see these benefits materialize is dependent on the speed at which renewable energy becomes available to the commercial, industrial, institutional, and municipal entities wishing to procure it. AEE is in Tallahassee as a resource to policy makers so that they can help turn Florida, already the Sunshine State, into the Solar State.
*This post was updated Mar. 4, 2020 to accurately reflect jobs figures sourced from the associated report.
"Opportunities for Meeting Commercial and Industrial Demand for Renewable Energy in Florida" is available for download by clicking below.