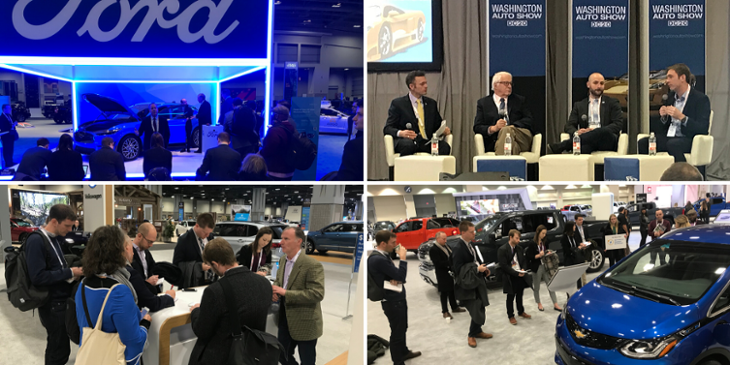 Caption (clockwise, from top left): Ford's Bob Holycross shows off the Mustang Mach-E; Fleet Electrification Panel with AEE's Matt Stanberry, Jim Bruce of UPS, Lyft's Corey Ershow, and Colin Murchie of EVgo; GM-Chevy's Kyle Suba touts 259-mile range of 2020 Bolt; VW's Mark Gillies describes mass-market EV plans.
In late January, AEE hosted its second annual EV press tour at the 2020 Washington Auto Show in Washington, D.C. We didn't realize it would be a Super Bowl preview of sorts, given big ad buys touting hot new EV models from Audi, General Motors, and Porsche. But the Auto Show presented the perfect opportunity to update the media on U.S. and global trends driving market growth, identify associated policy issues, speak directly with auto manufacturers about their plans and strategies, and see the latest EV models firsthand. Joining us were reporters from the New York Times, Wall Street Journal, Washington Examiner, Politico, Houston Chronicle, Electrek, Cheddar, E&E News, S&P Global, and Smart Cities Dive.
Following a similar format from last year's press tour, we first heard the show's Media Day keynoter from the administration, Department of Energy Undersecretary Mark Menezes. He announced that DOE has committed nearly $300 million for new research on clean vehicle technologies and is partnering with utility research group Electric Power Research Institute. The agreement with EPRI is meant to speed deployment and integration of electric transportation systems in the power grid, including fast-charging and energy storage technologies. The effort also addresses how to best integrate vehicle charging infrastructure into utility planning and operations.
AEE's Matt Stanberry acknowledged that 2019 EV sales were down an estimated 9%, but that was after a very hot 2018, with 81% growth of EV sales over the prior year. And sales of all autos were off last year, down to about 90 million globally last year from 94 million in 2018, 95 million in 2017. Also impacting EV sales is the federal tax credit, which is phasing out for top-selling EV models: Tesla's has expired and General Motors' reduced credit ($1,875) is set to end in March.
But there are reasons to believe the U.S. EV market will rebound, stronger than ever. The cost of batteries, the largest cost component of EV purchase price, continues to drop with improved and scaled manufacturing. Automakers are rolling out more EV models, many with more than 200-mile ranges. Finally, EVs are coming to the still-strong U.S. market for SUVs and pickup trucks. A number of fleet purchase announcements have been made for Tesla's Cybertruck and Rivian's R1T, while UPS has just ordered 10,000 electric delivery vans from UK-based Arrival Ltd. GM is launching an electric pickup truck and Ford is trumpeting the power of its new electric F-150 by towing a freight train.
We broke away from the main stage for a custom "show-and-tell," hearing directly from officials from Ford, General Motors-Chevy, and Volkswagen, who presented their latest electric and hybrid models and market deployment plans. Ford's Bob Holycross showcased the new Mustang Mach-E, staged on a special display that surely drew attention when the show opened to the public on Jan. 24. The new 4-wheel electric drive offers Mustang enthusiasts an all-weather high-performance drive experience. Chevy's Kyle Suba extolled the features of the new Bolt, which now boasts a range of 259 miles and an app to locate nearby charging options. VW's Mark Gillies shared ambitious plans for rolling out cars and SUVs at mass-market price points.
Back on the Media Day main stage, AEE presented a panel on fleet electrification moderated by Matt Stanberry. Panelists were Jim Bruce, SVP and Chief Energy Policy Officer, Global Public Affairs, UPS; Corey Ershow, Transportation Policy Manager, Lyft; and Colin Murchie, Senior Director, Business Development, EVgo. Main takeaways: Fleet operators already see the opportunity for savings from lower maintenance and operational costs with EVs and have plans for large EV procurements; charging infrastructure is growing to meet these needs; and electric light-duty deliveries can have the greatest impact on reducing pollution, as the last 50 miles of any trip involve the most braking and waiting.
The tour helped shape recent stories from the Houston Chronicle and E&E News and lent perspective to the New York Times piece on Super Bowl EV ads. We received a great reception from automakers and have already been invited back by Washington Auto Show organizers to run our custom EV press tour again next year. We can't wait to see what will be on display then!