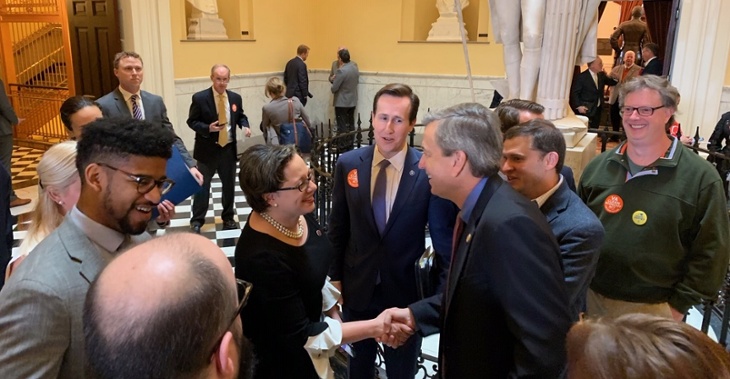 Sen. Jennifer McClellan and Del. Rip Sullivan celebrate passage of the Virginia Clean Economy Act, with AEE's Harry Godfrey (center) and JR Tolbert (right of Sullivan) looking on. Photo by Mary Rafferty
Last week, the Virginia General Assembly passed the Virginia Clean Economy Act (VCEA), which is now headed to the Governor's desk for signature. The VCEA represents the single largest initiative spurring advanced energy investment in the southeastern United States. It is also the culmination of three years of engagement and advocacy in the Commonwealth for Advanced Energy Economy. What does the Virginia Clean Economy Act do? And how did the Old Dominion go from laggard to leader in advanced energy? Read on.
What Does the Virginia Clean Economy Act Do?
The Virginia Clean Economy Act (SB 851/HB 1526) was built around four core pillars: 1) full decarbonization of the grid by 2045; 2) prioritizing energy waste reduction measures; 3) removing barriers to rooftop solar; and 4) investing in utility-scale renewable energy resources.
The legislation steadily reduces the Commonwealth's reliance on fossil-fired generation, with targets to drive emissions from coal, oil, and natural gas plants to zero by 2045 while shuttering the dirtiest power plants in the state by the end of 2024. Separate legislation (HB 528) giving the State Corporation Commission (SCC) authority over how utilities write off the costs associated with closing these plants also passed the legislature last week.
The second pillar of the legislation is the prioritization of demand side resources. The VCEA prioritizes investment in the least-cost clean energy resource – energy efficiency – which will reduce energy waste and save Virginia families and businesses money. The bill establishes a phased mandatory energy efficiency resource standard, with the first phase requiring a cumulative 5% reduction by 2025 for measures installed between now and 2025. The SCC is empowered to set the duration and savings targets for additional phases of energy efficiency.
Next, the legislation will finally unlock the rooftop solar market in Virginia by rolling back unnecessary regulations and increasing the cap on solar power purchase agreements from 50 megawatts (MW) to 1,000 MW. In addition to reducing the upfront capital required to invest in solar, the bill has a variety of other measures to increase the use of distributed solar including: establishing a 1% carveout for distributed solar in the renewable portfolio standard (RPS), increasing the net metering cap in investor-owned utility service territories from 1% to 6%, raising the threshold for standby charges from 10 kilowatt systems to 15 kilowatt, and establishes a process for a "value of solar" proceeding to be conducted by the SCC.
Finally, the legislation will allow Virginia to harness the power of cost-competitive clean energy resources, like wind, solar, and energy storage to power Virginia's electricity grid through binding clean energy targets, including a RPS and an energy storage target. Among the resources prioritized in the RPS is offshore wind, with up to 5,200 MW being declared in the public interest by 2034. This would be the East Coast's largest investment in offshore wind and was a priority of the Northam Administration.
Of particular note, the legislation also recognizes the role that large energy buyers have played in spurring Virginia's clean energy transition to date. The bill includes a provision that exempts those consumers from the incremental cost of the RPS if they continue to outpace the requirements of the program. Additionally, these same buyers will be required to procure up to 50 MW of offshore wind, thereby lowering the overall cost of offshore wind for Virginia consumers, as part of this program.
In short, the Virginia Clean Economy Act is an enormous shift in the Commonwealth's energy future from one reliant on incumbent technologies to one that embraces advanced energy technologies in whole.
How Did We Get Here?
The road to passage of the Virginia Clean Economy Act has been a long and winding one, but one that validates AEE's strategy for policy transformation: persistent engagement over time, providing decision-makers with credible information on the economic benefits of advanced energy, and working with allies while maintaining AEE's distinctive business voice.
Our work in the state began in 2014, when AEE Institute issued a study examining cost-effective pathways for the Department of Environmental Quality to comply with the EPA Clean Power Plan. We were focused initially on providing expertise from the advanced energy industry for agency officials. During this time, we realized that more work needed to be done for elected officials to fully understand the benefits our technologies bring to Virginia consumers.
In 2017, AEE launched a candidate engagement program aimed at elevating advanced energy issues in that year's gubernatorial election. The program brought advanced energy companies face-to-face with candidates for governor from both major parties. The discussion provided the candidates with insights on the industry – what our companies build and deliver – and provided companies the opportunity to highlight impediments in state policy that are blocking advanced energy in the marketplace. The program was a success and helped AEE gain a seat at the negotiating table for the Grid Transformation and Security Act of 2018, legislation that saw Virginia's first substantial commitments to energy efficiency and renewable energy. That legislation bore fruit early the next year, with regulatory approval of a suite of energy efficiency and demand response programs for Dominion Energy, the state's largest utility.
Recognizing the value of candidate education, AEE decided to take it to the legislative level in the 2019 election cycle. Last fall, AEE's candidate education program held roundtables with more than 35 current members of the General Assembly, in part utilizing our fact sheet showing that advanced energy currently supports more than 100,000 jobs in Virginia. These meetings focused on the benefits – economic growth and consumer savings – that bold policies could deliver for Virginians. The joint candidate engagement programs of 2017 and 2019 positioned AEE, working with our allies, to push for the South's most ambitious climate and clean energy package ever.
The past year has been a whirlwind. We worked closely with Gov. Northam's office in the run-up to his Executive Order calling for 100% clean energy by 2050, issued in September. Shortly thereafter, AEE published a study that showed Virginians would benefit in monthly electricity bills, jobs, income, and state GDP, as well as health and environment, by a transition to zero-carbon sources of electricity. Gov. Northam then met with 10 AEE member companies to hear how advanced energy technologies and services can help meet his goals and create more jobs in the Commonwealth.
Next, with Director Harry Godfrey in the lead, AEE worked with allies to put together a broad group of industry, public health, environment, and consumer organizations to push for legislation that would put clean energy targets into law, leading with energy efficiency to ensure the lowest cost. Supported by the advocacy of these groups, working separately and in tandem, and a targeted digital advertising campaign produced by AEE and environmental allies, bill patrons Sen. Jennifer McClellan and Del. Rip Sullivan shepherded the Virginia Clean Economy Act through the General Assembly and sent it to Gov. Northam's desk. A public signing ceremony is expected in early May.
As big a success as this is, our work in Virginia is not done. We will stay engaged through the implementation of the VCEA, in all its many facets. And we will continue to pursue further opportunities to give Virginians access to the advanced energy they want, including expanding consumer options for going to 100% renewable energy and the deployment of electric vehicles.
For years, advanced energy has been at a disadvantage to incumbent technologies due to the power and influence those industries have built in states over decades. At AEE, we are working to take on that influence by bringing our industry directly to the table with decision makers. We're finding that those conversations – focusing on the benefits our technologies provide their constituents and the role policy plays in our ability to compete – are knocking down barriers and paving the way for advanced energy growth.
AEE knows that the path to advanced energy progress goes through the states. That's why we're focused on replicating the success of this multi-year effort in other states across the country. We look forward to working with our members on these activities, and reporting further victories, this year and beyond.