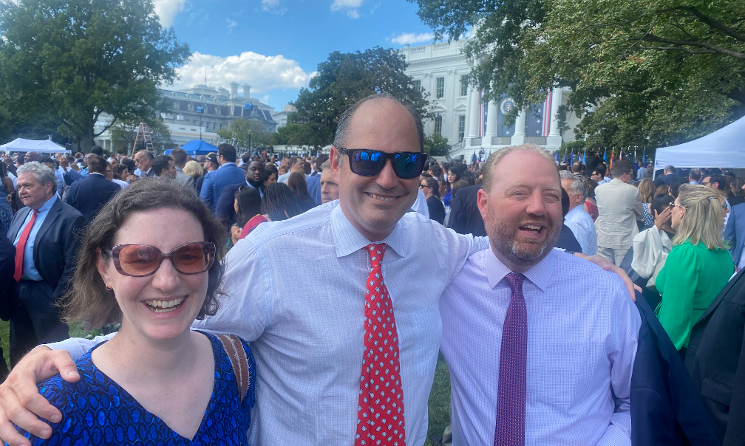 AEE's Leah Rubin Shen, Nat Kreamer, and Jeff Dennis on the White House South Lawn.
Yesterday, the White House held a celebration of the Inflation Reduction Act (IRA), the largest clean energy and climate investment in U.S. history. The bill marks a turning point in the transition away from fossil fuels to the clean energy technologies that will replace them and will pack a tangible boost for America's economy. That gives our industry a lot to celebrate, and on this day, AEE made the most of it.
The clean energy spending from both the IRA and last year's bipartisan Infrastructure Investment and Jobs Act totals $444 billion for the advanced energy industry, and our economic analysis predicts those dollars will net $2.8 trillion for the U.S. economy, including an estimated 23 million long- and short- term jobs all over the country.
AEE joined the official celebration at the White House with around 3,000 fellow industry leaders and advocates whose collective years of work made this legislation possible. AEE staffers were proud to share the South Lawn with this abundance of clean energy, labor, and environmental leaders and hear from President Biden, Vice President Harris, Majority Leader Schumer, and Speaker Pelosi on the opportunities offered by the IRA.
Our CEO Nat Kreamer, a pioneer of tax equity financing who championed the direct pay and transferability provisions incorporated in the bill, joined a Clean Energy and Climate Leaders Roundtable with senior White House climate staff, accompanied by a handful of member company executives. In that session, Kreamer discussed how IRA funding will roll out state by state and how AEE can help communities across America maximize historic clean energy dollars.
"We as an industry, and everyone who is concerned about our environment, have spent a decade asking for sound, long-term clean energy investments. The Inflation Reduction Act delivers on that ask," said Kreamer. "Driving more clean energy jobs to America is a lot to celebrate, but now it's up to our industry to act on the opportunities this law provides so we can transform the way America powers its homes and business and ultimately decarbonize our industrial way of life."
After the White House event, industry celebrations followed, with Lot Sixteen, Bloomberg, and Center for America Progress. Then AEE closed out the day with our own after-party at The Hamilton Live for one more toast to this historic enactment. Co-hosts Clean Capital, Clean Energy for America, and QCells, members like SunPower and Highland Electric Fleets, and our more than 500 attendees represented a cross-section of IRA supporters. With the celebrations concluded and unprecedented direct investments on the way, Advanced Energy Economy is ready to work with member companies and policy makers across the country to maximize the use of these dollars to transform the American economy with clean energy.
Is your company ready to make the most of Inflation Reduction Act spending and expand advanced energy markets? Click below to learn about membership in AEE.