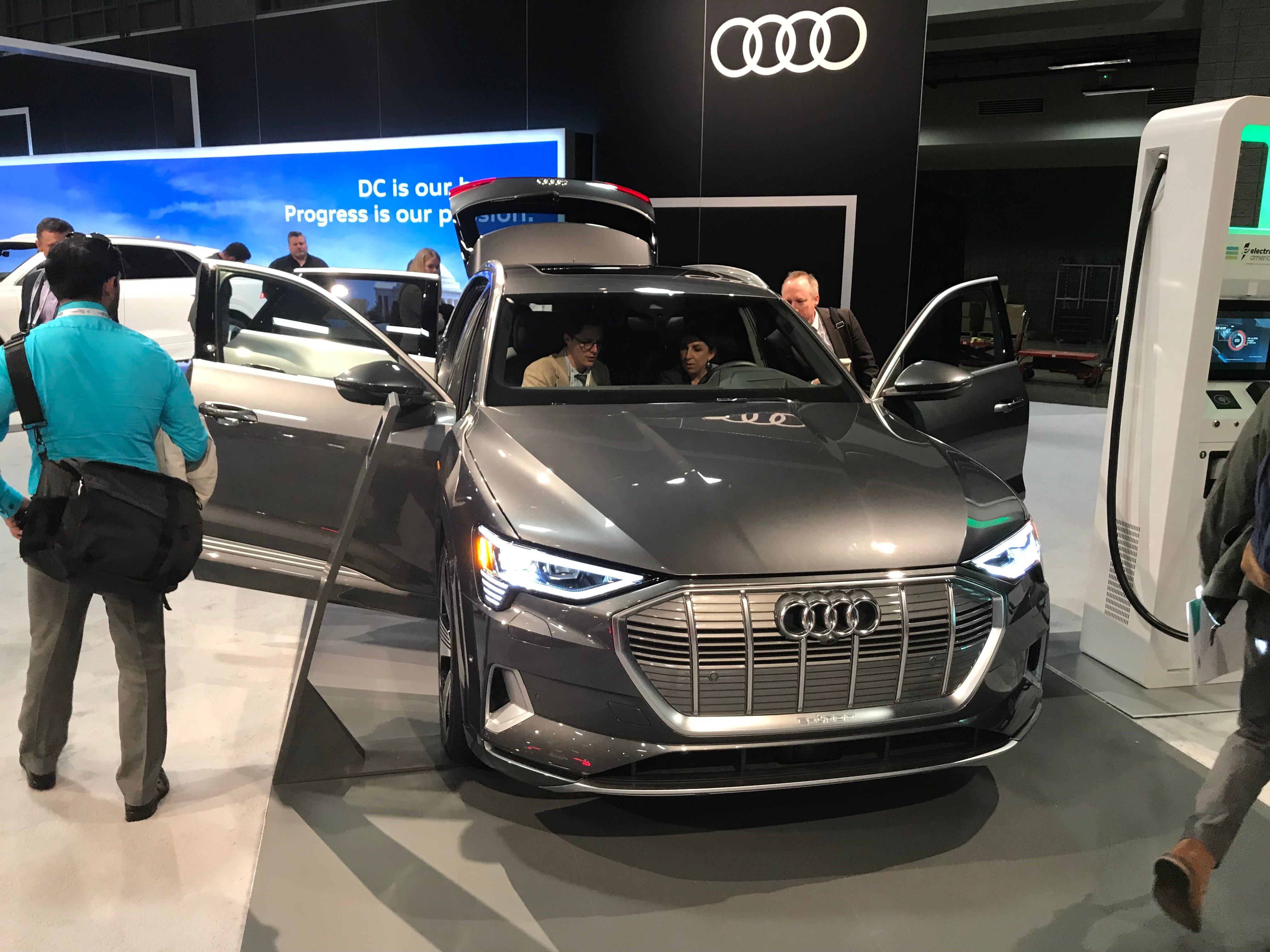 Media Day at the Washington Auto Show kicked off with remarks by EPA Administrator Andrew Wheeler defending the Trump Administration's efforts to roll back CAFE emission standards for light-duty vehicles. AEE was also on hand, focusing on something Wheeler never mentioned: Electric vehicles (EVs) have arrived, and are driving toward the future of U.S. mobility.

The purpose of AEE's EV press tour was to let editors and reporters from a range of publications hear about – and see for themselves – the transition to electric transportation that's under way. (See stories from the Washington Examiner, Houston Chronicle, and E&E News.)

AEE Managing Director Matt Stanberry opened by reporting on EV sales for light-duty vehicles, which grew 81% last year. With over 360,000 sold in 2018, EVs hit 2% of U.S. vehicle sales for the first time, he said. Stanberry outlined a range of drivers behind the market growth, while explaining that the foundational element has been a decline of 80% since 2010 in the cost of lithium-ion batteries, which currently makes up just under half the price of an electric car. As this trend of falling battery costs continues, industry analysts put the crossover point – at which EVs will reach parity in purchase price with gasoline-powered autos – in the mid 2020s.

"EVs are already cheaper to own and operate in many circumstances," said Stanberry, so "upfront cost is the next big thing." Other challenges for EV growth, said Stanberry, are limited consumer awareness of EVs, slow build-out of charging infrastructure, and uncertainty around the federal tax credit, given that Tesla and GM have hit their vehicle sales caps such that their credits are phasing out.

Mike Kurzeja, founder and CEO of EZEV, Exelon's venture to support vehicle electrification, spoke from the point of view of a company helping different types of utilities engage consumers. He spoke of the awareness-building that has to take place so that consumers understand how EVs and charging them can work for the full range of driver lifestyles.

Chris O'Brien, Vice President of Corporate Planning at Hyundai, told the journalists about the range of electrification options from hybrids to plug-in hybrids, pure battery electric vehicles, and hydrogen fuel cell vehicles (which use an electric motor just like EVs). He spoke about the ways that a full range of vehicle types can support all the use cases that consumers have. He noted the need for investment in electric charging and hydrogen fueling stations, as well as the need for more consumer education on electric vehicles to realize the benefits of electric power over petroleum fuels.

Audi's representatives, Product Communication Manager Amelia Fine-Morrison and Director of Government Affairs Brad Stertz, showcased Audi's first EV model, the e-tron, and expectations for its success in the market. The company has been taking pre-orders of the vehicle in advance of its first deliveries, which will take place in May. Audi "will keep electrifying cars," said Stertz, despite the Trump administration's rollback of efficiency rules. In fact, Audi intends to offer a new EV model every year going forward, he said.

Volkswagen of America Executive Vice President Pietro Zollino expressed VW's commitment to "become an electric car company" with 70 EV models on the market by 2028, and he noted that VW has begun retooling its factories for EV manufacturing. As a volume manufacturer, Zollino noted that VW will focus its efforts on bringing EVs to the mass market.

Several of the automakers at the show expressed concern over the looming legal battle between EPA and California regarding vehicle emission standards and the risk that it might result in two sets of requirements for different parts of the country. Automakers would prefer to get some flexibility within the existing fuel efficiency rules, rather than rolling them back, and end up with a set of rules that California would agree to, allowing automakers to expand their market in every state. Audi "wants one standard for the whole country," said Stertz.

Another the message that came through from the automakers is that in the end, the changes in the vehicle market are not being driven by the United States. Audi and Volkswagen both emphasized that the auto market is global. Automakers are getting ready for markets that are demanding EVs, including China, (which is the largest vehicle market in the world and is working on an internal combustion engine ban) and Europe. Zollino cited these markets as having "a more advanced EV environment." Maybe just for now, if AEE has anything to do with it.