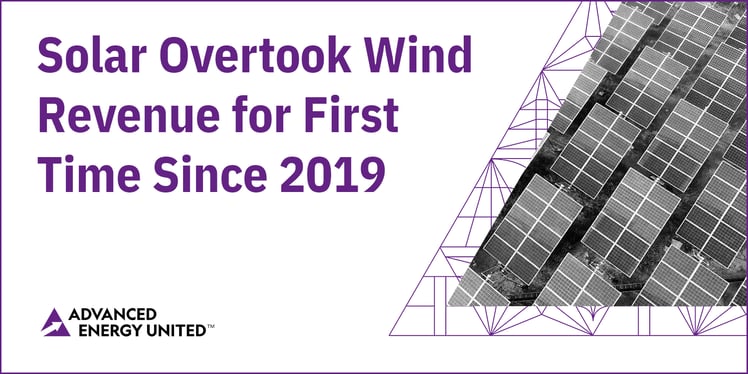 This blog post is an excerpt from the Advanced Energy Now 2023 Market Report, prepared for Advanced Energy United by Guidehouse Insights. This post is the fourth in a series of excerpts from the report.
Advanced electricity generation is the second largest advanced energy segment globally. At $549 billion, advanced electricity generation was down slightly in 2022 compared to 2021, dropping by over $29 billion. This overall decline was driven by a drop in wind revenue in 2022 (after setting a record in 2021) and masks significant growth in solar in 2021 and 2022.
The overall segment was boosted by global investment in solar and hydro generation in 2022. According to the International Energy Agency, multiple flagship hydropower projects in China drove increased spending in 2022. Supplemented by pockets of activity in Latin America and Africa, the hydropower market is expected to remain stable over the next five years.
Solar led all advanced electricity generation subsegments with $220 billion in global revenue in 2022, posting annual increases of 41% and 11%, respectively, in 2021 and 2022. Solar overtook wind in 2022 for the first time since 2019. Declining prices have resulted in accelerating solar adoption, which has in turn driven total revenue growth despite the falling prices. Solar adoption has also benefited from its ability to adapt to changing policy and market conditions, and less reliance on optimal locations compared to wind or hydro. Despite the decline in 2022, wind has risen at an average annual rate of 17% since 2017, while solar has increased by 10% per year over the same period.
Global hydropower capacity continued to increase year-on-year over the course of the pandemic, with revenues rising by 31% between 2020 and 2022, from $102 billion to $134 billion. China has led global hydropower capacity additions, with 13.8 GW added in 2020 and 20.8 GW added in 2021. On the other hand, revenue growth in the U.S. has remained limited, with year-on-year revenue increases of only 1.7% over the equivalent period.
Biomass power generation has also seen healthy growth following a pandemic-induced dip in revenues in 2020 to $8.7 billion globally. Between 2020 and 2022, global revenues increased by 26%, reaching $11 billion per year. Growth in the biomass segment has been particularly concentrated in Scandinavian countries, including Sweden and Finland, which have access to replenishable solid biomass stocks and forestry waste. In the nuclear industry, the story over the past two years has been one of gradual recovery. During the pandemic, global revenues from plant construction declined from $34 billion in 2019 to $18 billion in 2020, a level that has remained relatively constant in 2021 and 2022. Construction began on eight new reactors in 2022, five of which are in China and two in Egypt. Six new reactors also came online in 2022, two of which were in China. In the U.S., long-term growth in nuclear construction is likely to be driven by advanced reactor technologies, which are being funded by the Department of Energy's Advanced Reactor Demonstration Program. Significantly, early 2023 saw the Nuclear Regulatory Commission's approval of NuScale Power Corp's small modular reactor (SMR) design, paving way for the first demonstration SMR plant at the Idaho National Laboratory, a 462 MW facility targeted to come online in 2030.
In the U.S., Advanced Electricity Generation dropped from the second largest advanced energy segment in 2020, to fourth. While this was due in part to the dramatic growth in electric vehicles, Advanced Electricity Generation revenue fell by about 8% in 2022, after peaking at nearly $57 billion in 2021. Nevertheless, since 2011, advanced electricity generation has grown at an average annual rate of 3.8%. After registering positive growth every year since 2019, solar is now the largest subsegment of U.S. Advanced Electricity Generation, with $34 billion in 2022 revenue, representing more than half of all advanced electricity generation revenue in 2022.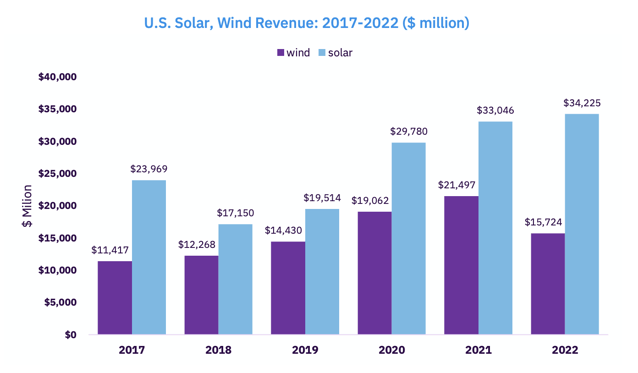 Solar & Wind Markets Show Mixed Year
In 2022, global solar markets remained resilient despite challenges brought on by the COVID-19 closures in China and resulting supply chain pressures. Though installation costs rose for the first time in a decade, falling component costs and renewed incentives supported strong growth. On the other hand, global wind revenue decreased for the first time since 2017. The drop in wind revenue in 2022 was largely driven by the exhaustion of the development pipeline caused by the extension of the wind production tax credit (PTC) in the U.S. to the end of 2021, and a shift in Europe to offshore wind projects with long development timelines. There is now more than 1 terawatt of installed solar capacity worldwide, with almost a quarter of that installed in 2022 alone.
This growth comes despite a solar market that has faced challenges in recent years. Solar contends with a complicated supply chain, recently exacerbated by COVID-19 closures in China and the introduction of restrictions on Chinese modules in the U.S. market. Also, many countries have shifted to competitive power contract auctions, tenders, and other procurement mechanisms that squeeze profit margins throughout the supply chain. Nonetheless, solar markets continue to grow and adjust to intense price competition— seemingly the new normal. Some markets, such as Europe and China, are experiencing rapid increases in capacity additions. Many supportive policy changes were put in place during the height of COVID-19, and then further augmented after the Russian invasion of Ukraine and the resulting energy crisis in Europe.
Wind power also benefits from many new policy initiatives, but the impact will take longer to be seen in new project plans. For offshore wind, China and Taiwan in Asia, and the Netherlands, the UK, and Germany in Europe are the leading markets for capacity additions. The U.S. is set to join this group once planned large-scale offshore wind plants along the eastern seaboard are commissioned. Nevertheless, 2022 was a difficult year for the wind energy supply chain globally. Inflation hit wind turbine manufacturers and suppliers hard. They now face a range of overlapping challenges: inflation in key inputs and commodities, dysfunctional trade flows and bottlenecks in the sourcing of some materials and components, plus unfavorable auction designs that combine wind and solar in the same process in some countries. Furthermore, long waits to interconnect to the grid and challenging regulatory and political environments at the local level in markets like the U.S. and the UK contributed to the slowdown in wind.