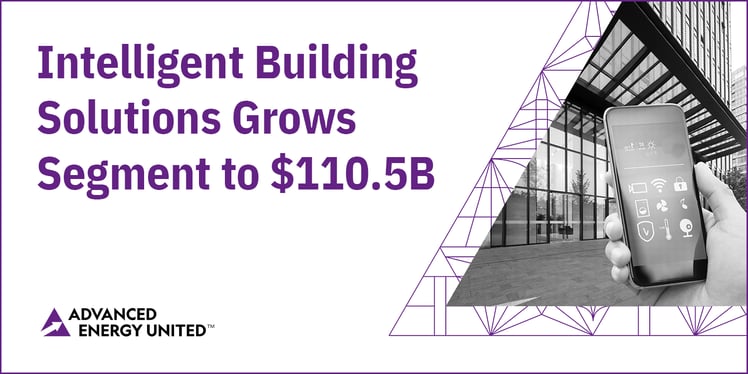 This blog post is an excerpt from the Overview of the Advanced Energy Now 2023 Market Report, prepared for Advanced Energy United by Guidehouse Insights. This post is the third in a series of excerpts from the report.
Advanced building efficiency remains a consistently reliable source of growth for advanced energy globally. In the U.S., advanced building efficiency revenue grew to $110.5 billion, up more than 8% in 2022.
Since the commercialization of LED lighting technology, the growth of energy-efficient lighting has been extraordinary. Lighting remains the largest subsegment globally, with $159.9 billion in revenue in 2022, up 5.2% from 2021. Lighting also accounted for the largest subsegment in the advanced building efficiency segment within the United States, generating $35 billion in revenue in 2022, up 13% since 2011. In other notable categories, revenue from water heating technologies approached $12 billion globally, a 250% increase over the past five years, and surpassed $5 billion in the U.S., a 15.1% increase since 2011.
The growing affordability of sensors, smart thermostats, artificial intelligence (AI), and cloud computing has had a profound effect on the building controls market. Intelligent building solutions that combine hardware, software, and services have been emerging rapidly because of growth in digital technologies to address a multitude of needs in commercial buildings. Many of these solutions evolved from more basic building management systems (BMS) and energy efficiency offerings, spanning into other areas of potential savings and benefits for building managers. Space utilization, improved health and air quality, and demand response are some of the new and evolving applications being offered in the market thanks to digitization.
The COVID-19 pandemic caused measurable disruption within the building efficiency segment, particularly in 2020. Investment has recovered nicely over the past two years, and the pandemic also spurred new innovations such as virtual energy assessments.
Products and services that support building electrification and energy conservation, such as high-efficiency HVAC systems (including air-source heat pumps), associated controls, building envelope improvements, and installation and commissioning services, are poised for continued growth in the coming decade. Heat pumps have emerged as a central solution to decarbonizing buildings through electrification. Other forms of electric heat are available to customers, including resistance heating (such as electric furnaces and baseboard heaters). However, heat pump technology has risen to the top of the list due to much lower energy consumption.
Technology innovation adjacent to traditional energy efficiency offerings, such as intelligent BMS, energy storage, and onsite generation, are the primary forces driving change in this market. With new technologies entering the market, vendors and customers are seeing opportunities for building-wide and building-to-grid solutions that address multiple building operational needs beyond energy savings. Large corporations, primarily, are adopting full-building solutions, with a big gap between market trailblazers and the rest. Corporations with multiple buildings in their portfolios and sustainability commitments to fulfill are primary adopters of new technology.
The need for maximized energy savings, optimized space utilization, and government policy compliance are some of the drivers leading commercial energy efficient technologies. The global commercial energy-efficient retrofit services market experienced an estimated 5.4% compounded annual growth rate from 2017 to 2022. This was largely driven by an increase in sustainability practices worldwide.
The market for commercial energy-efficient retrofit services has been evolving over the last decade as building owners and facility managers aim to reduce energy consumption by improving their building automation technologies and energy efficiency. Many building automation technologies—HVAC, lighting, fire and life safety, security, access controls, and building management systems— are key components of an intelligent building. The latest advances in building automation have enabled the process in which all of a building's sensors, electronics, and mechanical systems are connected and managed through a single system that allows real-time communication between the building subsystems for better energy consumption coordination.
Residential energy efficiency investments associated with new home construction and renovation are driving building efficiency revenues, in addition to sales of smart appliances. U.S. building efficiency investments have rebounded from COVID-19-related impacts and the Inflation Reduction Act of 2022 dedicates billions more to the segment, ensuring continued growth.