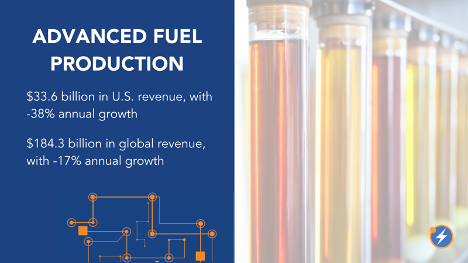 This post is the fifth in a series of excerpts from the Advanced Energy Now 2021 Market Report, prepared for AEE by Guidehouse Insights.
Advanced Fuel Production took a bit hit in 2020. Global revenue fell to $184.3 billion, following its highest year on record in 2019 at $221.8 billion. The United States experienced an even steeper revenue decline, down 38%, to $33.6 billion. This drop was largely due to volatility in Ethanol and Butanol revenue, which fell sharply in the U.S. in 2020 (47%) following 101% growth in 2019. Hard hit by COVID-19, U.S. ethanol consumption fell from 15.8 billion gallons in 2019 to 13.7 billion gallons in 2020. The Compound Annual Growth Rate (CAGR) for Global Advanced Fuel Production revenue over the 2011-2018 period was 6%, while in the United States CAGR was -3%.
Globally, CNG/LNG revenue grew 4% in 2020; annual growth rates have remained in the single digits following a 27% jump in 2017. Biodiesel sales have picked up since 2017, prior to which revenues had largely stagnated, at around the $20 billion mark. While declining slightly in 2020 – down 2%, to $43.4 billion – revenues grew globally by at least 20% in 2017, 2018, and 2019, for CAGR of 10% since 2011. Though it still accounts for only a fraction of the total Advanced Fuels market, Bio-methane grew by 11% globally in 2020 as landfill gas continued to be captured and is increasingly consumed by waste hauling trucks.
The biofuels market in the U.S. is regulated by the Renewable Fuel Standard (RFS). Congress set the original targets in 2007 but the U.S. Environmental Protection Agency (EPA) sets the final mandate each year in a final ruling before the year starts to adjust the RFS to the market conditions. Most recently, EPA released the final annual percent standards for 2019 and for the 2020 biodiesel volume in December 2018.
For 2019, EPA increased the mandate to 19.92 billion gallons, up from 19.29 billion gallons in 2018. The EPA's "Advanced Biofuel" category includes a carve-out for biomass-based diesel (biodiesel or renewable diesel produced from vegetable oils or animal fats) of 2.1 billion gallons, another one for cellulosic fuels, which includes biogas, of 418 million gallons, and a general pool that can be fulfilled with any biofuel with a greenhouse gas (GHG) emissions reduction of at least 50%, which captures sugarcane-based ethanol. Conventional biofuels, which the EPA defines as starch-based (primarily corn) ethanol with a 20% GHG emission reduction, remained at the final congressionally mandated target of 15 billion gallons for the first time.
Hydrogen Gets Renewed Interest as a No-Carbon Fuel
Currently, pure hydrogen is produced and used mostly for oil refining and ammonia production. The most common method of hydrogen production is steam-methane reforming (SMR), where hydrogen is produced by reacting steam at high temperature and pressure with methane (mostly from natural gas). But alternative methods of hydrogen production are gaining traction in the market. Specifically, there is growing interest in producing hydrogen using renewable energy so it can be a carbon-free fuel. The main pathway currently being pursued to make this "green hydrogen" is to use renewable electricity in an electrolyzer to split water into pure hydrogen and oxygen. Applications in fuel cell vehicles (FCVs) or as storage for excess renewable energy are expected to further increase demand. Globally, revenue from Hydrogen Production Technology grew from $108.8 million in 2018 to nearly $207.4 million in 2020, while revenue from Hydrogen fuel itself – much lower – rose from $25 million to $60.4 million.
Guidehouse Insights sees the most opportunities for green hydrogen in a select number of applications over the coming five to 10 years. Cost is perhaps the most important factor determining potential, but scalability and pressure to decarbonize are other key drivers. Level of government support is also important in these relatively early days. Specific opportunities include high-temperature industrial uses, certain transportation uses, and renewables integration, where electrification or other low-carbon options may be less technically viable.
Refueling of FCVs is among the fastest-growing use cases for hydrogen, with policies favoring the green variety. In California, at least 33% of hydrogen fuel is required to be generated from renewable resources. Though green hydrogen is more expensive at the pump thanks to compression and distribution costs, it is approaching cost parity with gasoline on a per-mile basis, at least in some subsidized markets. While plug-in electric vehicles have had more commercial success to date, given sufficient hydrogen infrastructure, there is significant potential for FCVs in some classes, especially long-distance trucking.
Hydrogen can also serve as long-term storage for renewable energy, even providing an alternative to additional transmission. Heavy renewables areas such as the North Sea may benefit from hydrogen storage and shipping instead of high-voltage transmission. Transport of hydrogen by pipeline could also be compared with the high costs of transmission permitting and construction for moving renewable energy over long distances.
Europe is expected to be a world leader in emerging hydrogen production technology. The EU has allocated funds; multiple countries such as France, Germany, and the UK have published hydrogen roadmaps. In October 2018, projects for 100 MW plants were announced for Amsterdam (Nouryon and Tata Steel) and Germany (Gasunie, TenneT, Thyssengas). The primary use cases for those two plants are industrial processes and renewables integration, respectively, with vehicle fueling another likely use case.
The Asia Pacific region has also been aggressive in driving hydrogen production and use. Japan and South Korea have explored hydrogen to ameliorate energy concerns, Australia has explored the potential of exporting hydrogen due to the sheer volume of its potential renewable electricity, and China is aiming to strongly adopt FCVs and integrate hydrogen into its energy strategy.
North America has been less ambitious on developing a hydrogen economy than Europe and Asia Pacific. In June 2020, the U.S. Department of Energy announced an investment of up to $100 million over five years in research and development for hydrogen and fuel cell technologies. Nevertheless, interest in green hydrogen among U.S. utilities is on the rise, especially those with decarbonization goals, whether these are voluntary utility targets or in states with decarbonization policies. States such as California and those in the northeast region of the U.S. have already shown inklings of a shift toward higher levels of hydrogen investment. In New York and Massachusetts, National Grid is engaged in multiple hydrogen blending research projects aimed at residential heating. Also in New York, Plug Power recently announced the construction of what will be the largest green hydrogen production facility in North America, supported by hydropower and capable of producing 45 metric tons of green hydrogen daily.
Hydrogen is also being evaluated for use as long-duration energy storage, as a fuel to use in power plants to provide flexible low- and zero-carbon capacity to achieve 100% clean grid targets, and by natural gas utilities looking for ways to decarbonize. While many technical issues remain to be addressed, we expect interest to grow in a variety of applications.
Ethanol was Hit by COVID Travel Slump – but not Biodiesel
Ethanol and Butanol was one of the hardest hit subsegments of the advanced energy industry in 2020. Global Ethanol and Butanol revenue dropped by 45% in 2020, and by 47% in the United States. During 2020, wholesale ethanol in the U.S. sold, on average, at $1.91 per gallon, while in 2019, the price averaged $2.85 per gallon. This drop was driven by the global lockdowns caused by COVID-19, which affected gasoline consumption globally. As a fuel substitute, the price of ethanol is highly correlated to the price of gasoline and hence with crude oil, which faced a worldwide glut in 2020. In years when ethanol production exceeded the RFS mandate, ethanol has typically traded at around 70% of the price of gasoline, due to its lower energy content.
The other factor affecting ethanol margins is the price of feedstocks (corn, sugar beet, and sugar cane). When the price of these feedstocks is high relative to the price of ethanol, some plants shut down as they become unprofitable, which then pushes the price of ethanol up until the mandate is fulfilled. In 2019, high corn prices caused by lower-than-expected crop sizes in South America drove up the price of ethanol, with revenues surging as a result.
The picture for biodiesel in 2020 was much better. The new annual standard for biomass-based diesel is high enough to absorb the current capacity. Diesel consumption overall was not affected dramatically by COVID-19, as a decline in the early days of lockdowns was offset by a subsequent increase attributable to delivery operations. In the U.S., 1.78 billion gallons of biodiesel were consumed in 2020, slightly above the 1.72 billion consumed in 2019.
U.S. Biodiesel revenue grew 3% in 2020, to $6.1 billion, despite a small decrease in price to $3.45 per gallon, from $3.48 per gallon in 2019. This revenue total is still well below the 10-year peak of $7.3 billion in 2018. That year, U.S biodiesel revenue grew by 43%, buoyed by the $1 per gallon biodiesel tax credit retroactively extended for 2017 by Congress in February 2018, with revenue realized in 2018. Biodiesel production increased 16% in 2018 with average retail price up 11%, contributing to record revenue for the 2011-2020 period, for which CAGR was 8% overall.
Click below for the full Advanced Energy Now 2021 Market Report or two-page Highlights.