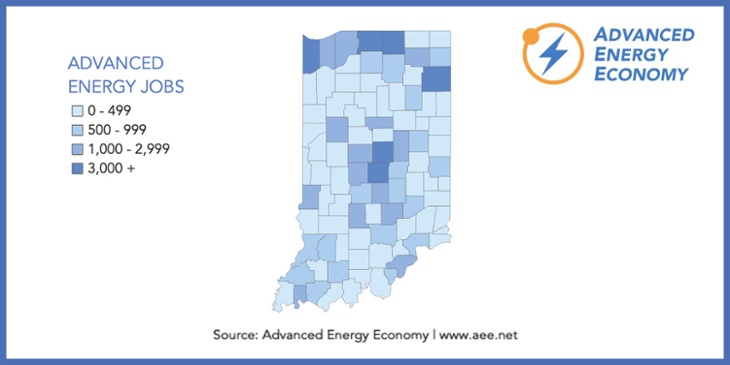 "Indiana – a State That Works." That's the state's motto, and every Hoosier knows it. What Hoosiers may not know is that the cost of doing business in Indiana has gotten higher due to significantly increased electricity rates over the past few years. If you ask business owners across the state, they will tell you that their energy-related costs have gone up, leaving them with less money to spend on expanding their business, hiring more employees, or investing in their own companies. The ability to control energy costs and sources is critical, especially for companies that consume a large amount of energy. Fortunately, advanced energy offers an opportunity for Indiana to offer low-cost and reliable energy to businesses. At the same time, advanced energy has become a significant source of employment in the state – more jobs than auto parts manufacturing, twice as many as in schools and universities, and growing four times as fast as Indiana jobs overall.
In the past, Indiana offered low electricity rates to households and businesses, which made a strong case for companies to have operations in the Hoosier state. Today, however, Indiana ranks 29th in the country for commercial electricity rates and 28th in the country for industrial electricity prices. Advanced energy solutions can help lower the cost of electricity for businesses in Indiana. As followers of the energy industry know, renewable energy technologies have significantly dropped in price over the years – 88% drop in costs for solar and 69% drop in costs for wind since 2009. This trend holds true in Indiana, too. Last year, the Northern Indiana Public Service Co. (NIPSCO) announced an Integrated Resource Plan (IRP) to retire its coal fleet by 2028 and replace that capacity with a combination of wind, solar, demand-side resources, and energy storage. NIPSCO estimates this could save ratepayers $4 billion.
Also, in April, the Indiana Utility Regulatory Commission (IURC) rejected another utility's plan to build an 850 MW natural gas plant, citing rapid technological innovation in the energy market and the need to consider smaller-scale options that can better service customers. Advanced energy can answer that call and bring lower cost energy options to Indiana today.
Companies around the state have noticed this opportunity. Last month, nine companies with operations in Indiana signed a letter to the Indiana General Assembly's recently created 21st Century Energy Policy Development Task Force stating that they want more access to low-cost renewable resources from their utility companies.
Advanced energy is also helping Indiana when it comes to jobs and economic development. According to AEE's employment fact sheet released last week, advanced energy now employs over 90,000 Hoosiers; this represents significantly more workers than those in Auto Parts Manufacturing (64,873), and nearly double those working at Schools, Colleges, and Training Programs (52,217) across the state. Overall, Indiana's advanced energy jobs increased 4% last year, four times the state's overall 1% jobs growth. The fastest growing segment was advanced vehicles, which experienced an 18% jump in jobs over the previous year.
Other key Indiana employment details in the fact sheet show:
Energy efficiency led with more than 55,100 jobs or 61% of total advanced energy employment.
Advanced vehicles reached 17,100 jobs (19% of total) and had the fastest growth, increasing 18% over the previous year.
Top 5 counties for advanced energy jobs were: Marion (17,700); Lake (6,300); Allen (5,600); Elkhart (4,600); and Hamilton (4,500).
Employers expect to repeat 4% job growth in 2019.
Indiana is truly a "State That Works" when it comes to advanced energy – with much potential still untapped. Utilities and the IURC have taken steps to ensure that advanced energy investment will continue, but Indiana households and businesses are still looking for greater access to advanced energy resources. Indiana Advanced Energy Economy is here to make the case that advanced energy policy is good for business, good for customers, and good for the State of Indiana.