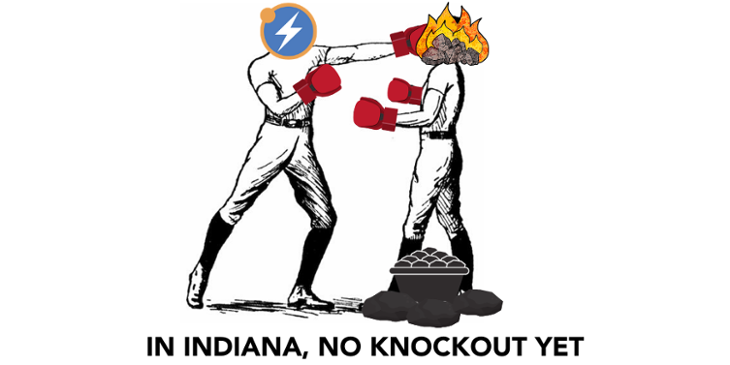 The 2020 session of the Indiana General Assembly was expected to be quiet. After all, we had just wrapped up the first year of the 21st Century Energy Task Force – a two-year study to create a comprehensive statewide energy plan for Indiana. Add to that, advanced energy advocates had been victorious the year before by defeating a proposal that would have placed a 20-month moratorium on Indiana Utility Regulatory Commission (IURC) action on any matter involving more than 250 MW of generating capacity – a requirement that would have locked in Indiana's coal-fired generation for nearly two years and prevented Indiana's utilities from pursuing their plans for advanced energy investment. With coal's bid for a bailout knocked down last year, no one – advocates, special interests, or legislators – expected a big energy fight this session. Little did we know, but the bell was about to ring for another round in the legislative ring.
The point of contention this year was HB 1414, authored by Rep. Ed Soliday (R-Valparaiso), chair of the House Utilities Committee. In its original draft, the bill would have required IURC approval before a utility could close a coal-fired power plant. In addition, the bill would have allowed for utilities to get cost recovery for keeping a 90-day supply of coal onsite. The bill also required utilities to keep coal plants operational and to invest money to fix and upgrade plants so that they would be ready to dispatch at all times. Coal interests – the only groups to support the initial bill – argued that turning away from coal was causing a reliability crisis in Indiana requiring immediate action.
Recognizing the threat to the advanced energy industry, Indiana AEE immediately sprang into action – meeting with the bill author, committee members, and other House legislators to educate them on the low cost and reliability benefits of advanced energy, as well as the growing demand from companies around the state looking for greater access to renewable energy. Over the last 18 months, the value of advanced energy for Indiana has been demonstrated by Northern Indiana Public Service Co. committing to retiring its coal fleet by 2028 in favor of wind, solar, storage, and demand-side resources to save consumers $4 billion. Then, an AEE report, released at the start of session in January, showed that Indiana would benefit from over $5 billion in investment and $25,000 jobs over the next 10 years if large energy-user demand for renewable energy is met with in-state resources. This report followed a letter from companies around the state, including Walmart, Salesforce, and Cummins, which called on the legislature to consider policy options to grant more renewable energy purchasing options for companies.
When the bill was before the House Energy Committee, nearly every group – including AEE, the Indiana Chamber of Commerce; the Indiana Industrial Energy Consumers group; the Indiana Conservative Alliance for Energy; the National Taxpayers Union; the Indiana State Conference of the NAACP; consumer advocacy group Citizens Action Coalition; and environmental organizations the Hoosier Environmental Council and Sierra Club – opposed it. Indeed, the Indiana Coal Council was the only group to testify in support.
Nonetheless, HB 1414 moved through committee on a party-line vote. The widespread opposition, however, led to significant changes to the bill in committee, including some softening of the regulatory review required before retiring a coal plant, and adding a sunset date of May 2021 – enough to satisfy some legislators that the bill would have limited impact. The bill passed the House by a vote of 52-41, with the Speaker casting a rare vote, signifying leadership backing.
As the bill moved to the Senate, AEE rallied even more opposition – enough to blunt the impact of the bill even more, though not enough to defeat it outright. AEE worked closely with the Senate Utilities Chairman, Jim Merritt (R-Indianapolis), and Senate sponsor and Majority Floor Leader Mark Messmer (R-Jasper) to address the issues of advanced energy industry and consumer impact. Sen. Merritt offered and passed an extensive amendment, which removed the 90-day coal stockpile language (a giveaway to plant operators and their coal suppliers with no consumer or reliability benefit), deleted language requiring costly coal plant upgrades and requiring utilities to dispatch these plants, and moved the sunset date to December 31, 2020. The Senate then passed the bill, now significantly weaker, and sent it back to the House.
As expected, Chairman Soliday rejected the Senate version and took the bill to conference committee for negotiation. The final bill that emerged from conference committee and was signed by the Governor at the end of last week added back the dispatch language, though in softened form, and moved the sunset date back to May 2021. However, the 90-day coal stockpile language was removed from the bill – a major win for consumers and for advocates who called the specious reliability.
It's never a good thing for the advanced energy industry when a state adopts a law that tries to hang on to outmoded and increasingly uneconomic legacy energy sources and slow down the transition to secure, clean, affordable advanced energy. But in the end, the concerted opposition of AEE and its many allies significantly weakened the bill and softened its impact. Most importantly, while Indiana utilities will have to go through more hoops before they can close down plants they no longer need, they will be free to go forward with plans for shifting their investments to advanced energy for the sake of their customers. In what is now shaping up to be a multi-round boxing match between old energy and advanced energy, this round would have to be called a draw.
And the next one? The Energy Task Force will likely begin its second year of meetings in August. We fully expect coal interests to lobby the Task Force and full legislature next session for further protections, trying for a third time to delay or stop closures of coal plants.
AEE is not waiting for this fight to come to us. AEE has continually shown the economic benefits of our industry, from the 90,000 Hoosiers already employed by the advanced energy industry to the job creation and investment opportunity from policies that give businesses and consumers the advanced energy they want. While the coal industry will surely crawl back to the legislature for a bailout once again, AEE will already be there, working to educate legislators about the benefits of advanced energy for all Hoosiers.
Download "Opportunities for Meeting Commercial and Industrial Demand for Renewable Energy in Indiana" by clicking below.