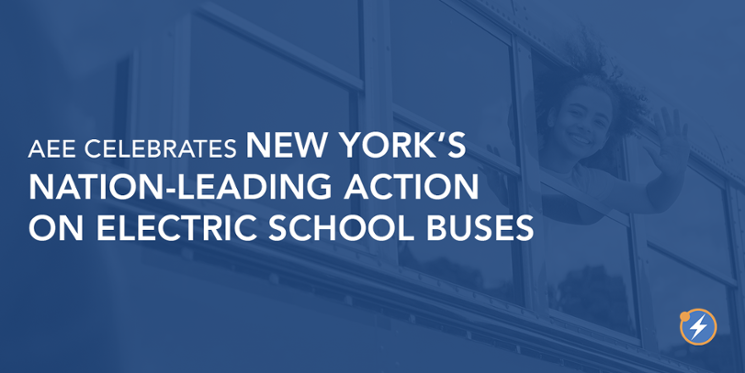 On April 8, New York Gov. Kathy Hochul agreed to a $220 billion state budget with the New York State Legislature that commits the state to deploying a fully zero-emission school bus fleet by 2035, thus positioning New York to become the first state in the nation to end the use of fossil fuel-powered school buses and provide 100% clean rides for students. Working in concert with partners and other advocates, AEE was deeply involved in building support for electrifying schools in both executive and legislative branches and takes pride in the nation-leading action taken by leaders in the Empire State. Now, the advanced energy industry, including many of AEE's members, are poised to assist New York's 950 school districts with a rapid transition to zero-emission school buses.
With over 47,000 yellow buses in the state, New York has the largest school bus fleet in the nation, transporting over 1.8 million children daily. This made the Empire State the perfect candidate to transition from polluting diesel to emissions-free school buses. In addition to the obvious public health and environmental benefits of eliminating diesel fuel emissions, electric school buses offer school districts significant operational savings. While the upfront cost of purchasing an electric school bus is still higher than that of a diesel one, an electric school bus cuts fuel and maintenance costs in half over the vehicle's lifetime, putting more money back into New York classrooms. Given the rising cost of fuel nationwide and the urgent need to lessen our dependence on foreign fuel controlled by dictators, this is a smart investment for New York school districts and their students' future.
What Does the Budget Do?
Under New York's fiscal year 2023 budget, all newly purchased school buses must be zero emission by 2027, and by 2035 all school buses in operation must be fully zero emission. For schools with special circumstances, there is a non-renewable hardship exemption available for districts to extend the 2027 sales mandate to 2029. Schools will now be able to use state aid for the purchase of bus charging infrastructure and for the electricity needed to charge the buses. In addition, the allowable lease timeline for school buses was extended from five years to 12 years. This is important because nearly half of school buses in New York are leased and shorter lease periods do not allow the operator to accrue the fuel and maintenance savings of a zero-emission bus. In addition, 12 year leases are better aligned with the 12- to 15-year life cycle of standard type C and D school buses, which includes the bus's lithium-ion battery.
The budget agreement is strengthened by the allocation of $500 million in financial assistance for school districts to purchase electric buses and the necessary charging infrastructure via an expanded environmental bond and requiring the New York State Energy Research and Development Authority (NYSERDA) to provide school districts with technical assistance. In November, New York voters will be asked to approve the environmental bond measure, and ensure that these funds are available to school districts.
How Did We Get Here?
AEE has been advocating to speed up electric school bus adoption in New York for several years. We built a coalition in support of expanded state aid to help school districts with the transition to zero-emission school buses, including voucher incentives, charging station infrastructure costs, and technical assistance. This effort gained traction with the introduction of legislation by Sen. Timothy Kennedy and Assemblymember Patricia Fahy, which gained wide support in both chambers , including 46 co-sponsors in the 63-member Senate. The coalition, which included groups ranging from school bus manufacturers and school board associations to environmental advocates and social justice organizations, sent a letter to Gov. Hochul in December in support of the pending legislation and calling on her to include similar measures in her proposed budget.
Then, in her State of the State speech in January, Gov. Hochul announced that she would propose legislation requiring 100% of New York's school buses to be zero-emission by 2035. This bold proposal was included in the Governor's FY 2023 executive budget proposal but initially did not include any dedicated funding for financial or technical support for school districts. AEE, along with the Alliance for Clean Energy New York, World Resources Institute, New York League of Conservation Voters, Highland Electric, and other coalition partners , met with dozens of New York legislators, staff, and other policymakers in the months leading up to and following the budget negotiations, to highlight the opportunity of school bus electrification and to recommend policy mechanisms that would prioritize equitable access for school districts, and dedicate funding to help school districts and contractors procure electric buses and the necessary charging infrastructure.
In the final days of negotiation between Assembly and Senate over the budget, amNY published AEE's op-ed declaring New York State "poised to lead the 'charge' on electric school buses," and when the budget was finally approved, AEE commended the Governor and legislature for their historic commitment to clean rides for kids.
Where Do We Go From Here?
As big a success as this multi-year effort was, AEE's electric transportation work in New York is far from done. The budget positions New York schools to receive a large portion of the $2.5 billion in federal funding through the U.S. EPA's Clean School Bus program. AEE will help to advocate for the passage this fall of the environmental bond act and offer input to NYSERDA and other state agencies as they help districts plan for the 2035 transition. This is especially true for school districts that may require additional financial and technical assistance to complete this process.
AEE looks forward to working with school districts, Gov. Hochul's administration, NYSERDA, and other education stakeholders to make sure New York can affordably and equitably leave polluting diesel school buses behind. The advanced energy industry, including electric bus manufacturers like Navistar, innovative fleet managers like Highland Electric, and charging providers like Nuvve also stand ready to match the ambition shown by New York's leaders in helping to facilitate the zero-emission school bus transition.
New York is now the model for school bus electrification, and we plan to share lessons learned from this effort with other states looking to clean up their state school bus fleet. AEE understands that states are the breeding ground for transformative change in the energy landscape. We remain as focused as ever on that pursuit and look forward to continuing to leverage the expertise of our members to continuously deliver electric transportation and other advanced energy victories in New York and across the country.
AEE has produced a video on New York's leadership step in the broader campaign to electrify school buses across the nation. Play the video by clicking below.