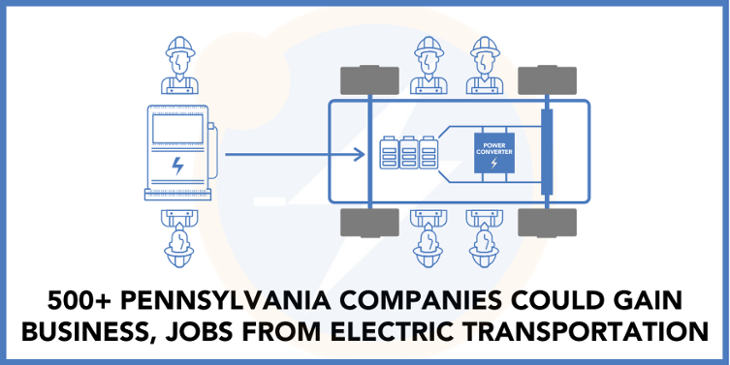 Recently, the United States experienced a shortage of essential medical supplies needed to treat an influx of patients with COVID-19, including respirators, gloves, face shields, gowns, and hand sanitizer – a shortage that drew national attention to the subject of supply chains. Interconnected, global supply chains can present challenges, but they also present opportunities for companies to scale their businesses by tapping into the global marketplace. That is especially true for markets that are on the rise, like the one for electric vehicles (EVs) and supporting charging infrastructure. The emerging supply chain for these products offers the prospect of business and job growth that can be seen on the local level in places with strength in the required skill sets. And that's exactly what we found in our recent study of the EV supply chain in Pennsylvania.
Today's EV supply chain is very much a global one. The United States is reliant on overseas production, notably for the metals, chemicals, and other elements that are essential to the production of batteries, but for other parts as well. Even before COVID, manufacturers of EVs were looking at ways to build out the domestic supply chain. In March, General Motors – in a move to expand capacity with battery production that is closer to market – announced a joint venture with LG Chem to mass produce battery cells for EVs manufactured in its Northeast Ohio facility.
As EV sales grow, despite a COVID-related dip this year for the entire auto market, the electric transportation supply chain will need to grow as well. In the latest annual update to its Long-term Electric Vehicle Outlook report, BloombergNEF predicts that on a global scale, post-COVID, EVs are expected to continue capturing market share, making up 10% of new passenger car sales worldwide by 2025 and over 50% by 2040. Currently, EVs constitute around 2% of the U.S. auto market, but this share will grow as the U.S. starts to catch up to the rest of the world.
Many states are currently engaged in the supply chain for the U.S. auto industry, which is global in nature but has a big domestic footprint. That supply chain will shift in significant ways as the dominant mode of transportation transitions from internal combustion to electric, and so will the jobs associated with it. Some auto-related jobs – in sales, distribution, etc. – will simply convert along with the vehicles themselves. Some may be lost, as production of EVs is different than gas- and diesel-powered models, but the differences between internal combustion engines and electric drive trains, and between charging stations and gasoline pumps, will also open up new opportunities for firms and workers that are doing other things in the automotive supply chain today or not currently part of the automotive industry at all. The United States is in a race with other parts of the globe to ensure that the EV supply expands domestically, so that U.S. companies are positioned to serve the global automotive marketplace of the future.
Recently, AEE released a first-ever study of the employment potential from the supply chain for electric transportation, focused on Pennsylvania. This study, prepared by BW Research Partnership, found that electric transportation could create additional jobs in the Keystone State, which will be of particular importance in the expected economic recovery following COVID-19.
Pennsylvania's industrial and workforce base is particularly strong in electronic component, motor, and generator manufacturing, which are industry segments poised to grow with electric transportation. The study found that around 350 companies in the state could be immediately retooled and retrofitted to supply the EV market, and an additional 190 firms could transition to ET activity with slightly more time and investment.
This would add to the surprisingly large amount of electric transportation business activity already established in Pennsylvania. It turns out that even at this early stage in the market's history, electric transportation currently maintains over 4,400 jobs across the state, which for reference is about the size of natural gas extraction employment in Pennsylvania, and is estimated to account for more than $434 million of Pennsylvania's Gross State Product (GSP) in 2019.
But there's plenty more potential, and in places that could use it. The report found that Erie, Berks, Chester, and Allegheny counties, which saw employment declines between 2014 and 2019 in industries that could be transitioned to electric transportation, could especially benefit from the growth associated with greater adoption of EVs and related products.
In order to spur the transition to EVs and start putting Pennsylvanians to work, regulatory and legislative action is needed to encourage EV deployment in the state and address one of the major barriers to EV adoption: a lack of available charging infrastructure. Many states have addressed this issue through legislative and regulatory action. Pennsylvania has the opportunity to do so as well.
Currently, Senate Bill 596, the Pennsylvania Clean Transportation Infrastructure Act, awaits action in the House. The bipartisan bill sets a 2030 goal for EV deployment in the state that is 50% higher than current market forecasts, establishes a system for determining the charging infrastructure required to support those goals, and lays out a process for utility EV programs to be evaluated by the Public Utility Commission.
SB 596 offers Pennsylvania a no-cost action that would have a stimulative effect on the state's economy. By setting a deployment goal, assessing the charging infrastructure needed to get to that goal, and asking the utilities and utility commission to take actions to support the market, Pennsylvania could signal to the rest of the United States that the Keystone State is open for EV business. The action would expand the opportunity for the companies already in Pennsylvania's supply chain while reinforcing a pathway for resumed growth for the 500-plus Pennsylvania companies in adjacent industries. And, as automotive companies look for places in the U.S. to lay down roots, grow their domestic supply chains, and sell more product, they would see the Keystone State as an attractive candidate, reinforcing the impact.
By setting a goal for charging infrastructure deployment, Pennsylvanians would also be put to work installing and even manufacturing charging station equipment, during a time when jobs are sorely needed. That would help in closing the charging infrastructure gap in the United States, help the country's competitive positioning in the automotive industry with respect to China and Europe, increase the security of our nation's supply chain in one of our most storied products – the automobile – and stimulate economic development.
Pennsylvania is just one state, and the opportunity to gain from a growing supply chain for electric transportation will not be the same for every state. But as the U.S. re-examines where its essential products come from, a burgeoning EV industry poised to receive substantial investment in the coming years would be a good place to start.