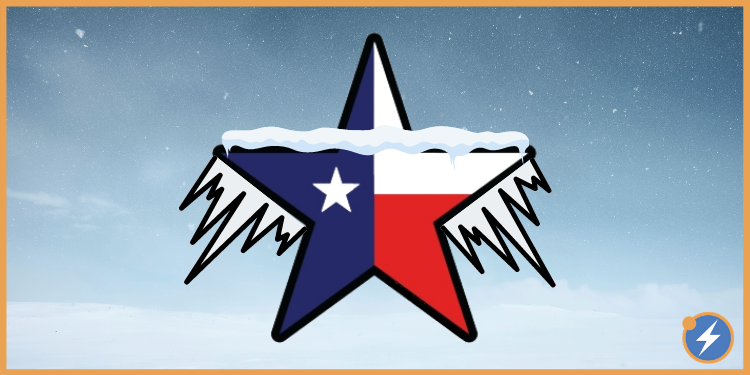 It was a dark and stormy session for the Texas legislature, dominated by electric power issues surfaced by Winter Storm Uri. With the Texas electricity system under more scrutiny – and more up for grabs – than at any time since restructuring in 1999, we at the Texas Advanced Energy Business Alliance (TAEBA) had our hands full. But when the dust settled and the legislature gaveled out on Memorial Day, the outcome for advanced energy was net positive – even though the legislature missed a golden opportunity to enhance grid resilience with distributed energy resources.
No One Expected a Legislative Session Like This One
Starting on the second Tuesday in January, in the midst of a global pandemic, the Texas Legislature was focused on COVID-19 and passing the state's required two-year budget, while Texas Advanced Energy Business Alliance (TAEBA) was promoting advanced energy as an economic recovery tool. But, five weeks into session, a historic ice storm, Winter Storm Uri, swept across the State. This winter storm blanketed large swaths of Texas in snow and ice, and left millions without power or clean water for days in below-freezing temperatures, causing much suffering and loss of life. From then on, the energy sector was front and center for the Legislature, and TAEBA pivoted its policy priorities to focus more directly on advanced energy solutions for a reliable and resilient electricity system for Texans.
After the February winter storm blackouts, the Legislature held multiple days of hearings questioning leaders at the Electric Reliability Council of Texas (ERCOT), Public Utility Commission of Texas (PUCT), Railroad Commission of Texas (RRC), major utility companies, and industry experts to try to figure out what went wrong and how to prevent a future crisis. Then came an avalanche of bills hurriedly filed before the March 12 deadline touching topics such as PUCT and ERCOT reform, wholesale market design, resilience and weatherization, finance and securitization, and bills relating to transmission, interconnection, distributed energy resources (DERs), battery storage, energy efficiency, demand response, electric vehicles (EVs), wind, and solar. As a result, TAEBA found itself directly engaged with or closely watching well over 200 bills. Following are some highlights from a very intense legislative session, the busiest in decades.
Winter Storm Response Takes Twists and Turns
Even before the Winter Storm Uri's full effects were known, opponents of wind and solar were pointing fingers at these two technologies as the alleged cause of the grid failure. Although this narrative was quickly debunked, as no technology was left unscathed, several anti-renewable bills were introduced. The industry came together with businesses that demand lower cost, clean energy to power their operations in Texas, to successfully defeat the most egregious attacks.
Key anti-renewables bills that went down to defeat included SB 1278 (Hancock)/HB 4466 (P. King) which would have directly assigned any ancillary service costs to wind and solar and HB 4502 (Vasut)/SB 1282 (Hancock) which would have assigned interconnection costs to new electric generation and batteries. Several other bills would have created new costs on renewable generation by direct taxation or by reversing federal tax benefits, but those bills failed to move.
The anti-renewables push was not the only red herring offered up to Texas legislators as they were crafting responses to the winter weather emergency. Warren Buffett's Berkshire-Hathaway swooped in from out of state to offer up an $8.3 billion "emergency reserve" system that was universally derided as pricey, anti-competitive, and anti-Texan. Saner minds prevailed, however, and SB 3 (Schwertner) became the main vehicle for all winterization, emergency preparedness, and legislative leadership agenda items. This omnibus bill addresses many weatherization and grid fixes such as: enhancing communication and coordination between state agencies and the legislature; putting weatherization requirements on electric utilities and some natural gas facilities; and improving supply-chain mapping and coordination for emergency planning and response.
Our work is not over, however. Problematic ancillary services provisions in the infamous Section 13 of earlier versions of SB 3 were modified into requirements for a future PUCT rulemaking and ERCOT stakeholder committee work. This section would have required intermittent resources in ERCOT to purchase ancillary services and replacement power sufficient to manage net load variability. No one was completely sure what the provision meant or how it could be implemented, but what was clear was that the provision was intended to create new barriers to large-scale wind and solar and would be costly to consumers of electricity. Now, the PUCT and ERCOT are required to evaluate and modify ancillary services markets going forward, which could still create new market barriers and raise costs for advanced energy. The bill also creates a State Energy Plan Advisory Committee made up of political appointees by the Governor, Lieutenant Governor, and Speaker of the House, tasked with preparing a comprehensive state energy plan by September 2022, thus teeing up the potential for more changes in the 2023 legislative session.
To deal with the aftermath of the financial impact of the winter weather emergency, the Legislature passed several financing bills. HB 4492 (Paddie) will facilitate ERCOT recovery of debts related to market defaults from high wholesale power prices. This bill will loan $800 million to ERCOT through the State's Economic Stabilization fund to help finance payments to companies that are owed money. Additionally, the Legislature passed HB 1510 (Metcalf) relating to enabling securitization funding to benefit utilities for storm recovery costs with bonds issued by the newly created Texas Electric Utility System Restoration Corporation. Similarly, HB 1520 (Paddie) is related to securitization of storm costs for gas utilities, and SB 1580 (Hancock) is related to securitization for electric cooperatives.
Another major theme that arose from the post-winter storm hearings was the need to reform the two major agencies that oversee our electricity grid: ERCOT and the PUCT. Shortly after the crisis occurred, the ERCOT CEO and several board members resigned, as did all three PUCT commissioners. What followed was a set of legislative directives to shake up these regulatory bodies.
First, SB 2 (Hancock) passed the House and Senate overwhelmingly. This bill addresses the board structure of ERCOT, and shrinks the number of seats on its board of directors from 16 to 11. It gives Texas political leaders (Governor, Lt. Governor, and Speaker) the ability to appoint a three-person board selection committee, which will in turn appoint eight of the ERCOT Board members, each of whom must reside in Texas and have executive level experience in finance, business, engineering, trading, risk management, law, or electric market design. Second, SB 2154 (Schwertner) increases the number of PUCT Commissioners from three to five, and adds a residency requirement and a "revolving door" provision to restrict lobbying by former commissioners. Last, SB 713 (Buckingham) moves up the Sunset Review process for the PUCT from 2025 to 2023. Through the Sunset Review process, which is normally conducted on a 12-year cycle, the agency will be subject to a thorough review and the legislature must proactively pass legislation to continue the agency, further suggesting that 2023 could be another intense legislative session with everything on the table for consideration.
Out of the Storm, Wins for Advanced Energy
While direct response to the winter energy crisis was the main legislative event, the session's overall focus on energy proved to be fertile ground for advanced energy progress. One piece of our pre-storm policy platform that won approval this session was SB 415 (Hancock), which clarifies the role of batteries in the competitive market, and specifically allows for non-wires solutions to be adopted by regulated utilities through contracts with competitive battery storage providers in the ERCOT region. This bill is a win for Texans that will allow for strengthening community and grid resilience and flexibility with battery storage technologies, and could save customers as much as $2.45 billion over 10 years by providing a lower cost alternative to traditional "poles and wires" investments. On top of that, HB 2483 (P. King) allows for utilities to lease and operate batteries and other temporary emergency electricity to aid in restoring power during emergency weather events.
Another TAEBA-priority bill that crossed the finish line is SB 398 (Menendez) which will remove barriers for distributed generation. This is a win for Texas customers, as it prevents municipalities or property owners' association from imposing onerous requirements on rooftop solar, while requiring information disclosures to protect customers on solar purchases and leases. In addition, during the House floor debate, HB 3916 (Goldman) was added to SB 398 as an amendment, providing the food supply chain (e.g., grocery stores, food manufacturing or distribution) access to distributed generation, including wholesale market access for that distributed generation, in municipally-owned electric utility territories.
TAEBA was also involved in policy negotiations around transmission planning. As part of its policy platform, TAEBA supported HB 1607 (Darby), which would have accelerated transmission infrastructure development to ensure that consumers and businesses in the growing Texas economy would have access to low-cost power throughout the state. This bill passed the House with a substantial majority (106 to 23) but did not move in the Senate. Toward the end of session, stakeholders instead focused on SB 1281 (Hancock) as a potential vehicle to reform transmission policy. Over the last weekend of the legislative session, lawmakers in the House and Senate finalized through the conference committee process a bipartisan bill that expands the current criteria for justifying transmission projects to promote reliability of the grid and access to the lowest cost power sources – another win for advanced energy and for consumers.
Electric vehicles also got a lot of attention this legislative session, with over 45 bills filed relating to EV taxes, funding in the Texas Emissions Reduction Plan (TERP) account (which in part funds incentives and infrastructure grants), EV charging regulations, and electric school buses. The legislature passed a TAEBA-priority bill (SB 1202 by Hancock) that exempts EV charging companies from having to register as a retail electric provider (REP) or a utility to sell charging services, providing a clear signal to EV charging companies that Texas is open for business to expand EV charging infrastructure. Another big win for EV drivers came in the form of successfully quashing a punitive annual $200 ( $250 for light-duty trucks) registration fee on EV drivers (SB 1728 by Schwertner), as this would have been one of the highest EV taxes in the country. The alleged purpose of this fee was to ensure that EV drivers pay their fair share to state revenue for road maintenance that is otherwise not paid for by gasoline taxes, but went well beyond what would have been reasonable to recoup such lost revenues. Throughout session, TAEBA advocated for a formula-based approach to ensure equitable treatment of EV drivers, rather than an arbitrary flat tax. Although these efforts were ultimately rebuffed as lawmakers insisted on moving forward with the outsized flat tax, in the end all EV tax bills were killed through parliamentary maneuvers.
In other EV action, a bill that would have put unnecessary regulatory burdens on EV charging companies (SB 839 by Schwertner) did not pass, another win for advanced energy businesses in the state. Unfortunately, two bills that would have accelerated EV adoption in Texas did not make it past the finish line, but started important conversations for next session: HB 4120 (Deshotel), which would have expanded electric school bus adoption (discussed in more detail below), as well as HB 4379 (Harris), which would have allowed the direct sale of EVs by manufacturers; both bills got a late start this legislative session and did not move forward in time for full consideration.
Missed Opportunities, Particularly For DERs
Despite the progress made this session, the winter weather response missed a massive opportunity to make the Texas electric power system more resilient and reliable with demand-side solutions such as energy efficiency, demand response, and other DERs. Specifically, TAEBA is disappointed that energy efficiency received little attention. Winter Storm Uri provided a clear example of how both the supply side (energy generation) and the demand side (energy consumption) of the power grid play a part in how the system operates. The extreme cold led to an all-time winter peak energy demand that rivaled Texas' notorious hot summer days, and going forward it is imperative to lower demand during weather extremes to ease strain on the power grid.
Among TAEBA priority bills, SB 243 (Eckhardt)/HB 2359 (Reynolds)/HB 4556 (Anchia) would have deepened the state's commitment to energy efficiency by adding energy savings goals to existing utility energy efficiency programs. The Eckhardt and Anchia bills had good hearings in the Senate and House, respectively, but failed to pass out of committee. SB 2109 (Schwertner) started off as a good bill that would have created a residential demand response program with specific demand response goals, but unfortunately, this bill was hijacked by the Berkshire Hathaway proposal (discussed above), thus ending any real discussion on demand response.
The weatherization omnibus bill, SB 3 (Schwertner) includes a provision that allows transmission and distribution utilities to design and operate a load management program for non-residential customers during grid emergencies. Moving forward, Texas will need to continue to work on increasing its commitment to energy efficiency and demand response to ease strain on the power grid, and with a focus on expanding competitive solutions, rather than regulated, rate-based utility programs. Our electricity grid is evolving with strides in technology advancements which will lower customer bills and increase grid reliability, and Texas policy needs to keep up.
The Legislature also did not take action on DER market-access bills. SB 1479 (Johnson), which would have expanded DER participation in ERCOT market including requiring ERCOT to adopt rules to allow DER aggregation (similar to FERC's Order 2222 which applies to all six other organized regional electricity grids) had a positive hearing in the Senate, but did not make it out of committee. Similarly, HB 3624 (Deshotel), which would have promoted behind-the-meter battery storage, was voted out of House State Affairs but died before the House had an opportunity to vote on the bill.
Next, none of the many Chapter 313 bills (such as HB 1556 by Murphy or HB 4242 by Meyer), which would have extended tax incentives for large manufacturing and other economic development projects, including renewable energy projects, were passed. HB 1556 also would have added energy storage as an eligible technology to receive the incentives. Because Chapter 313 provisions of the Tax Code are set to expire on December 31, 2022, this is a missed opportunity to provide regulatory certainty as the provisions will expire prior to the next legislative session, in 2013. It is important to note, however, that while none of the Chapter 313 bills passed this session and storage was not added, renewables were not removed, a win for the industry. We expect to see discussion to continue during the interim leading up to the next legislative session.
Finally, we were disappointed not to see clean energy and resilience brought to public schools in Texas. HB 4120 (Deshotel)/SB 1303 (Blanco) would have expanded electric school bus adoption in the state, and would have allowed for innovative financing methods for achieving school districts' transportation electrification goals. This bill would also have promoted onsite solar and storage as revenue sources and backup power for schools, allowing participation in the wholesale market. While this bill would have promoted reliability and resilience to the benefit of Texas school children and their local communities, we were glad to see these companion bills filed in both the House and Senate, with a successful hearing in the House State Affairs committee, and passing out of committee unanimously. Unfortunately, due to it being late in the session, HB 4120 did not get set on the calendar for a House vote, but we hope to see the conversation around clean energy schools continue into the interim and the 2023 legislative session.
No Rest for the Weary
While we expect all of the passed legislation discussed above to be enacted, Governor Abbott has until June 20 to veto bills, sign them, or allow them to take effect without signature. After that, these bills will head to their respective regulatory agencies for implementation. TAEBA looks forward to engaging at the PUCT with a whole new set of five Commissioners (only two of which have been seated so far) on the multitude of rulemakings that will result from this legislative session. ERCOT, under changed leadership and a modified Board structure, also will have a full agenda of stakeholder discussions and market protocols changes to undertake, with oversight by the PUCT.
During ordinary legislative cycles, the House and Senate receive interim charges, directives from the Speaker and Lt. Governor to study particular topics within each committee of jurisdiction. We expect this activity to continue as usual. However, we already know that Governor Abbott will call at least one special session this fall relating to redistricting and may call one or more special sessions sooner to address other highly charged political issues, such as voting requirements, and we are waiting to see if any additional energy topics will be included in a special session agenda. Setting aside the potential for more direct legislative action, we also expect the legislative interim to be busy as the State Energy Plan Advisory Committee performs its work to review broader market design issues between now and September 2022, and the PUCT undergoes its Sunset Review process. 2023 is already looming ahead as another extremely busy legislative session for Texas energy.
TAEBA will continue to bring the business voice of advanced energy to these many rulemakings and stakeholder discussions to promote adoption of fair market rules and to set the stage for continuing to build an electricity system for the people of Texas that is more secure, clean, reliable, and affordable – and hopefully calmer weather.
To see how advanced energy helped keep the lights on during the winter storm in Texas, and how electric school buses are our future, watch two video clips from TAEBA by clicking below: