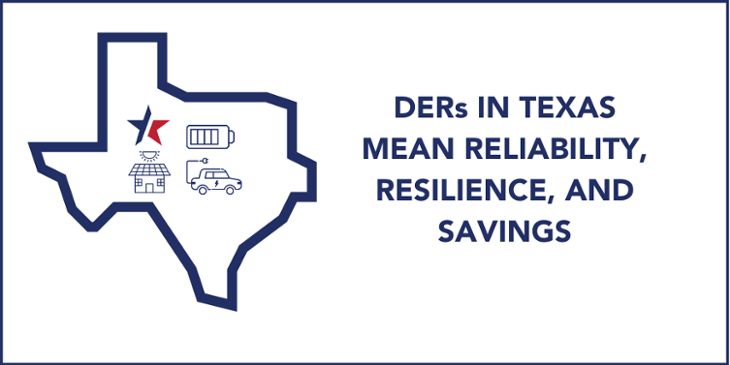 By now, it is no secret that distributed energy resources (DERs), including rooftop solar, energy storage, customer-owned generation, demand response, electric vehicles, and energy efficiency can save Texas billions of dollars over the coming years. A report published by Texas Advanced Energy Business Alliance (TAEBA) showed that DERs could deliver $5.47 billion of value over 10 years by prolonging the use of existing, functional utility infrastructure and by better integrating DERs into electricity markets. But the value of DERs is not just in the future. Rather, DERs are already providing Texas businesses and Texas residents with many benefits, including reliability, resilience, and cost savings. Read on for five examples of DERs currently at work in the Lone Star State.
From hospitals to single-family homes, and from solar installations to microgrids, DERs provide immediate benefits in cost savings, reliability, and resilience for the households and businesses that install them. Here are five examples of DERs put to work in Texas.
Solar Energy Powering Facilities
SunPower Corp., which currently has 13.2 GW of solar installed globally, worked with Toyota Motor North America to help them realize cost savings from rooftop solar. SunPower installed solar panels at both Toyota's North American headquarters, located in Plano, as well as another location in San Antonio. Together, these two projects totaled 12 MW of capacity, enough to offset about one-third of annual electricity usage at the headquarters campus. In fact, the 7.75 MW Plano installation itself represents Texas' largest commercial solar array yet developed.
Solar Providing Savings for Residential Customers
Homeowners are drawn to solar energy because of the potential for electricity bill savings, which in Texas, customers are consistently seeing. SunPower also works with residential customers to unlock savings. A household in Arlington, with a system size of 14 kW, is lowering its annual electricity bill by 74%. In combination with net energy metering, this customer is saving over $200 a month, toward savings of nearly $43,000 over 25 years. Likewise, a household in Fort Worth, with a 10kW system, is offsetting its annual electricity bill by 95%, saving over $170 a month and over $37,000 over 25 years.
Microgrid Improving Reliability for Texas's Largest Utility
Schneider Electric worked with Oncor Electric Energy, a regulated transmission and distribution utility that serves more than 10 million customers across Texas, to build a demonstration microgrid at its Lancaster facility involving multiple DERs. This microgrid, which consisted of two solar photovoltaic arrays, two battery energy storage systems, one microturbine, and four backup generators, was one of the most technically advanced microgrids built nationally in 2016. To date, Schneider has completed two microgrids with Oncor, at its control center and research and development center. Schneider has also worked with CPS Energy in San Antonio to develop a distribution automation strategy and with the United States General Services Administration to transform 14 buildings in eight Texas cities into efficient, grid-interactive buildings.
Microgrids Enhancing Energy Security at Military Base
Joint Base San Antonio (JBSA), a United States military facility under the jurisdiction of the U.S. Air Force, is working with Ameresco to achieve optimum energy security, resilience, and sustainability. The project includes 18.5 MW of solar, 4 MW/8MWh of lithium-ion battery energy storage, over 2 million gallons of thermal energy storage. During a power outage, the microgrid will be able to "island," or disconnect from the grid via its control system and provide off-grid power to the Air Force base. This facility will be fully operational within the next two years.
Demand Response Increasing Revenue for Hospital
Enel X, a part of the Enel Group, worked with a large hospital in Texas to maximize earnings from demand response (DR). Enel worked with the hospital to make upgrades to its backup generation in order to qualify for participation in ERCOT's DR services. The upgrades enable the hospital to provide up to 4.2 MW of DR to ERCOT, earning the organization more than $467,000 in payments over five years, after covering the upgrade costs.
DERs will continue to demonstrate value to the Texans who invest in them, but with supportive policies, in law and regulation, the full value of DERs can be unlocked for all Texas customers. This will build upon the increased resilience, reliability, and cost savings that Texas businesses, institutions, and households are already seeing today.
Click below to view the TAEBA webinar, "Distributed Energy Resources in Texas: Resilience and Reliability in the Time of COVID," featuring representatives of SunPower, Enel X, Schneider Electric, and Ameresco.