Publish Date: April 20, 2022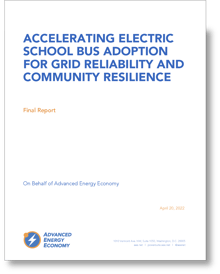 A team of 13 graduate students in Columbia University's MPA in Environmental Science and Policy program worked to develop for AEE recommendations to accelerate the adoption of electric school buses in some of the country's most promising markets. Through a series of policy and financial recommendations, the Columbia team identified pathways to adoption in support of AEE's ongoing work in three fast-growing Sun Belt states – Arizona, Florida, and Texas. The report discusses the current landscape surrounding energy markets and regulation in these states, analyzes political considerations affecting electric school bus adoption, and provides recommendations for accelerating the transition to emissions-free school transportation fleets.
Please fill out the form to download the report.