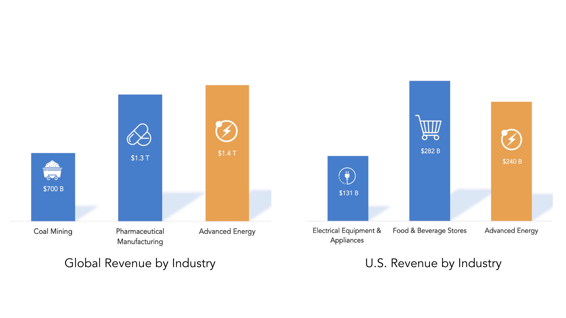 Global advanced energy revenue exceeded pharmaceutical manufacturing and was double coal mining; U.S. market was nearly equal to food and beverage stores, nearly double electrical equipment and appliances.
WASHINGTON, D.C., March 25, 2021 — Today, national business group Advanced Energy Economy (AEE) announced that total revenue for advanced energy worldwide reached $1.4 trillion in 2020, growing by 2.5% over 2019, following 7% growth in the year prior. The U.S. advanced energy market hit $240 billion in revenue, down 2%, on par with the U.S. GDP decline, after growing 18% in 2019. Excluding the impact of volatility in ethanol (a subsegment of Advanced Fuels), U.S. advanced energy revenue grew about 8% in both 2020 and 2019.
These findings, along with details by market segment, are found in the Advanced Energy Now 2021 Market Report produced by Guidehouse Insights (formerly Navigant Research) for AEE. The 2021 edition covers global and U.S. revenue for the industry annually from 2011 to 2020, showing compound annual growth rates (CAGR) of 6% globally, 5% for U.S. advanced energy over that time period.
"Despite the headwinds and challenges of 2020, the advanced energy market demonstrated remarkable resilience and growth, with key segments booming," said Nat Kreamer, CEO of AEE. "These technologies and services are core parts of today's economy and positioned to drive our nation's economic recovery, creating jobs, and lasting solutions to our nation's energy needs."
"In the past two years, we saw strong progress in wind and solar energy generation, energy storage, and plug-in electric vehicles, as well as continued growth in energy efficiency investment," said Kreamer. "To serve the growing demand for clean energy resources to meet corporate sustainability and state targets, as well as grid system reliability and resilience, we need to keep reducing market barriers and ensuring that the value delivered by these technologies gets recognized properly."
Additional U.S. market findings include:
Building Efficiency remained the largest segment of U.S. advanced energy revenue with a total of $94.5 billion in revenues, up 5% in 2020, but lower than its 9% growth in 2019, largely due to COVID-19. While commercial and industrial work declined, residential energy efficiency investments associated with new home construction and renovation drove up Building Efficiency revenues, as did sales of smart appliances

.

Since 2011, Building Efficiency revenue has grown at a CAGR of 10%.


Advanced Transportation saw both the largest revenue increase ($5.1 billion) and the biggest growth year over year (16%). Leading this growth was revenue from Plug-in Electric Vehicles (PEVs), up 19% from 2019, to $19.7 billion. Indeed, PEV growth has been explosive, with a compound annual growth rate (CAGR) of 45% since 2011. Previously, PEV gains have come at the expense of hybrid vehicles, which peaked at $15 billion in 2013. But after a period of relative stagnation, Hybrid Vehicles have also shown growth over the past two years, with revenue rising 8% in 2020, to $10.9 billion.


Electricity Delivery and Management revenue grew by just over 10% to $22.2 billion in 2020, led by Energy Storage, up by a whopping 139%. The U.S. saw a decline in EV charging infrastructure revenue to $394 million, from a high of $578 million in 2018. But regulatory approval of large-scale EV charging programs in California and New York in 2020, as well as pilots in several other states, should spur growth in 2021 and beyond.


Advanced Electricity Generation revenue also showed impressive growth in the face of COVID-19, up 10% in 2020 to $39.8 billion. Growth in 2020 was principally a function of Wind, which grew 32% in a record year of deployment, following an 18% increase in 2019. Solar growth was strong in 2019, with revenues up 14%. But 2020 saw a 5% drop in solar revenue, despite a 6% increase in capacity installed that year, primarily in grid-scale projects.


Advanced Fuel Production

mirrored the global market in a deep decline. Following a record year in 2019, both in total ($54.5 billion) and growth rate (63%), revenues plummeted, dropping $21 billion, or 39%, to $33.6 billion in 2020. The ups and downs in this segment is almost exclusively due to Ethanol, which saw a price spike in 2019 but then was dramatically impacted in both consumption and price the next year. U.S. Ethanol sales declined 13% by volume in 2020, while the price per gallon dropped even further (33%).
About Advanced Energy Economy
Advanced Energy Economy (AEE)
is a national association of businesses that are making the energy we use secure, clean, and affordable. AEE is the only industry association in the U.S. that represents the full range of advanced energy technologies and services, both grid-scale and distributed. Advanced energy includes energy efficiency, demand response, energy storage, wind, solar, hydro, nuclear, electric vehicles, and more.
AEE's mission is to transform public policy to enable rapid growth of advanced energy businesses. Engaged at the federal level and more than a dozen states around the country, AEE represents more than 100 companies in the $238 billion U.S. advanced energy industry, which employs 3.6 million U.S. workers. AEE's
PowerSuite
online platform allows users to track regulatory and legislative issues in s

tate legislatures, U.S. Congress, s

tate PUCs,

RTOs/ISOs, and FERC. Sign up for a free trial at
powersuite.aee.net
.
Follow us at
@AEEnet
.